Dip-Dyed Napkins
Add a personal, hand-crafted touch to your Thanksgiving table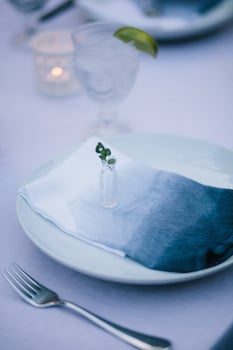 If you go to the trouble to plan, cook, and serve a full Thanksgiving meal, make sure your tablescape is worthy of the special occasion. Simple touches—fresh flowers, a pressed tablecloth, linen napkins—dress up your daily dining table.
A few months ago, we discovered the mother-daughter event planning duo of Ginger Hussey and Megan Forbes. Hussey is the owner and director of Hey Love! Events. Forbes often helps her mom with planning and designing duties. Forbes also publishes the blog Goldmine Journal with Christina Hussey; they cover food, design, style, and travel. We spoke with Forbes about a DIY project they did on dip-dyed napkins. Forbes first saw the style in shops around town and thought that she'd like to try the technique herself.
The project requires purchasing some white, cotton napkins and dye. Forbes used Rit dye, which is common in grocery stores and craft stores. She recommends washing the napkins first to remove the factory starch and allow the dye to permeate the fabric. The project can be messy, so outside or in a laundry or craft room is a good location.
Forbes likes brown, gold, or burgundy for Thanksgiving. And although the navy blue she used for her project isn't common for Thanksgiving, it could work, too. (Click here to see the pink napkins Hey Love! Events created for a recent Charlotte Wedding photo shoot.)
Once you mix the dye, you dip the napkins not quite halfway and leave them for about 10 minutes to create the ombre effect. Then hang them to dry. Forbes rinsed her napkins thoroughly with a water hose before using them or washing them in the machine to avoid bleeding. But once the dye is set, the napkins hold up for future use anytime you want to add a little extra to your table.
"They're so pretty on their own; they kind of set the table off themselves, and you don't have to do as much" Forbes says. "It just kind of shows that you care and that you want it to look nice."