Direct Flight: A Trip to Belize
Where the weight of daily life rolls off your back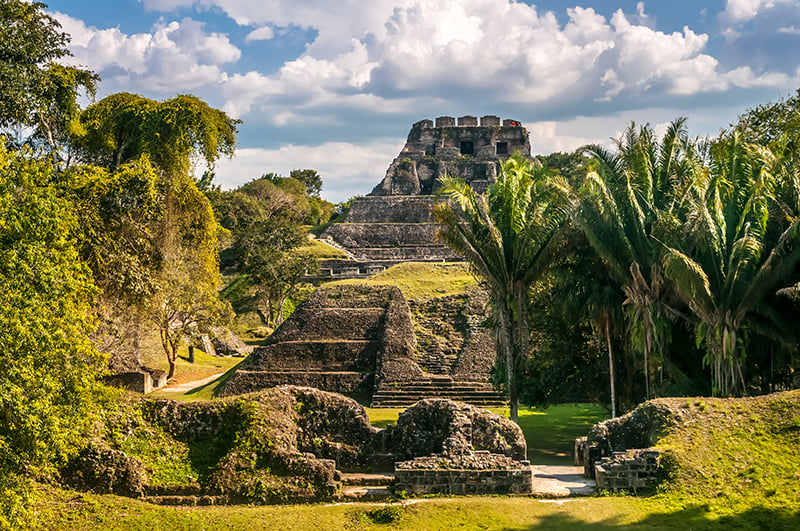 Miles from Charlotte: 1,304
Flying Time: 3 hours, 42 minutes
Nonstop Service on: American Airlines
---
WE'RE CONDITIONED IN AMERICA to think that big cities—Portland, Chicago, New York City—offer the best samplings of culture. Belize bucks that. There isn't much to do in Belize City. But just outside the dusty Central American metro, beauty and cultural excursions abound.
A cheery green and yellow "Welcome to Belize" sign arches over the main road as I leave the airport, passing palm trees and a few people waving. I'd chuckled at the instructions from the car rental office: "Turn right at the power transformer." Charlotteans will be happy to know that Belize has only five major roads, and none of them has the same name.
The weight of my regular life rolls off my back as I watch the landscape soften from dust and brush in Belize City to thick trees and vines as I approach San Ignacio—a two-hour adventure west over construction-laden roads with potholes that could swallow my Jeep. Fresh fruit juice stands dot the roadside.
San Ignacio is a quiet respite at the end of the road, about nine miles before the Guatemalan border. It's a small town of almost 18,000 people, full of locals who are eager to welcome travelers. The open-air Ko-Ox Han-Nah restaurant near the Macal River downtown draws throngs of tourists, which can be discouraging until you take in the rich smell of stewed chicken and beans that floats through the windowless storefront and into the street. Ko-Ox Han-Nah has only a dozen or so tables, but table sharing is encouraged. Travelers and locals exchange stories and become fast friends.
On the second day of my week-long trip, I take the free river ferry—hand-cranked by a couple of locals—to Xunantunich and explore the Mayan archaeological site's well-preserved ruins. The rocky climb to the top of 130-foot-tall El Castillo, Xunantunich's highest point, lacks guardrails, but the 360-degree view of the Belizean and Guatemalan jungle is worth every trepidatious step. If you're lucky, you'll spot a black howler or spider monkey perched on the ruins or swinging in the trees.
***
I'M A VACATION RESEARCHER HOBBYIST. Before a trip like this one, I spend hours preparing. I read every travel blog I can find, hunting for tips on how to spot local flora and fauna, what kind of local delicacies to try, and how to fight off a jaguar if I happen upon one in the jungle. Before I arrived in Belize, I (naively) thought I knew everything I needed to.
But beyond the lush jungle of San Ignacio and the smells of rich recado rojo spice mix, there's the stunning coastline around the island of Caye Caulker and a country that's much more than those blogs suggest.
A snorkeling expedition owner known around the island as "The Caveman" has guided tours for more than 30 years. He tells me that Caye Caulker is "the island of love." That love extends past the island across all of Belize—even you, Belize City—to all people who call it home and make it feel like home for anyone who visits. A blog can't prepare you for that.
---
Stay
San Ignacio Resort Hotel
This luxury hotel is a short walk from the best restaurants and produce markets in San Ignacio, and it's home to the Green Iguana Conservation Project. You can take a guided tour to feed the iguanas or laze by the pool and watch for toucans.
Eat
Mincho'sYou won't find a menu online, but this cheap takeout food is well worth a stop. Order Belizean foods like
salbutes and panaches. Burns Avenue, San Ignacio
Errolyn's House of Fryjacks
Fryjacks, a Belizean specialty, are delicate fried dough pockets stuffed with ham, eggs, cheese, and black beans. I tried them at four places, and Errolyn's were my favorite. Top with local Marie Sharp's hot sauce. Avenida Langosta, Caye Caulker
Ice and Beans Café This beachfront
café offers a variety of coffee drinks, smoothies, and bagel sandwiches. Don't leave without a bag of their mini donuts. Front Street, Caye Caulker
Do
Caveman's Snorkeling Adventures
Join island guides on full- or half-day snorkeling tours. Swim with fish, sea turtles, and nurse sharks, and keep your eyes peeled for manatees.
Cave Tubing at Caves Branch River
Dozens of tour groups offer full-day excursions, many with ziplines or lunch additions. Try for a Monday or Friday, because Tuesday through Thursday are busy cruise-excursion days.