Direct Flight: A Trip to Burlington, Vermont
In any season, but especially fall, it's easy to love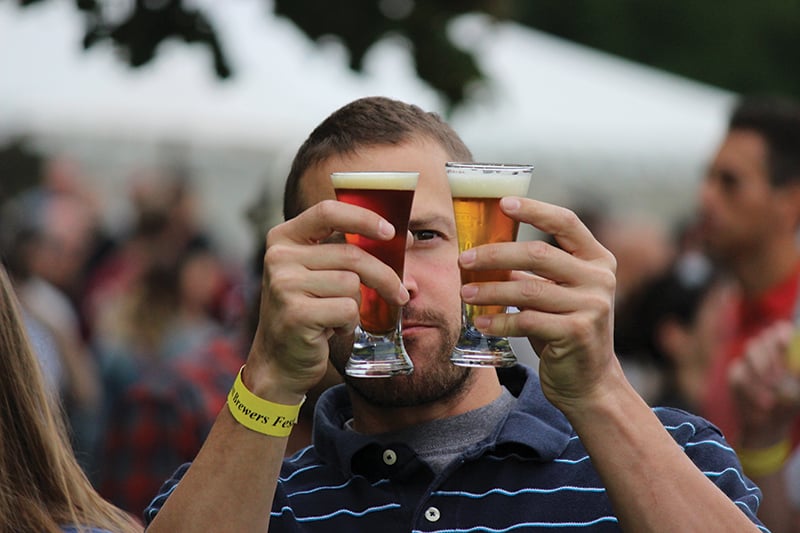 Our Direct Flight Series is presented by Mann Travels and American Airlines Vacations.
Miles from Charlotte: 911
Flying time: 2 hours, 5 minutes
Nonstop service on: American Airlines
FOR THE FIRST 22 YEARS of my life, I couldn't say for sure whether or not leaves actually changed colors.
I had seen scores of photographs showing the red, orange, and yellow hues decorating trees, of course. Leaves were in plenty of movies, too, romanticizing autumn and the "changing of the seasons," which was something I didn't quite understand.
I'm a native Floridian, and palm tree fronds insist on staying green all year. When I moved to Charlotte six years ago and saw leaves change, it was a Florida boy's fantasy, a bit of an autumn awakening in me. Each year, I kept traveling to see the leaves in even greater vibrancy. First there was Asheville, then Washington, D.C., then the itching for more.
This is why I find myself in Burlington, Vermont: for the leaves.
Outside the University of Vermont on Lake Street, I stand delightfully submerged in an ankle-high layer of canary yellow leaves that had fallen from some of the 2,500 trees shading the Burlington campus.
As I walk, I pass the inconspicuous brick headquarters of Seventh Generation—the sustainable cleaning products company—and continue to brush more leaves from my jacket as I head toward one of the city's breweries, Foam Brewers.
Even as much as the leaves are a part of Vermont's blood—not to mention its economy—craft beer is perhaps even more so. According to the Vermont Brewers Association, Foam Brewers is one of 56 craft breweries in the state. That might seem like a small number (North Carolina, by comparison, has about 260), but Vermont's a much smaller state. It leads the country in per capita breweries, at 11.5 breweries for every 100,000 Vermont adults, compared to North Carolina's 3.4 per 100,000 adults.
I walk into the brewery, where cured meats for the spot's charcuterie plates are hanging behind the bar. My Uber driver, Degree, who would later coincidentally and hilariously be the same driver to pick me up at the end of the evening, recommends this spot.
It's still warm enough in late October (unusual for Burlington, locals keep saying with glee) that I could sip my beer outside in the brewery's beer garden, shuffle my feet in the leaves, and wonder why it had taken me so long to make it here.
Later, I walk down Church Street Marketplace, an outdoor pedestrian mall that reminds me a bit of a New England Savannah with its charm and walkability. White lights twinkle above in rows, connecting one side of the street to the next in a tidy, glowing web.
I settle in at The Daily Planet, a small, dimly lit bar and restaurant, mostly because there's a two-top table by the open window facing the street that I wanted to snag. I order a local Switchback beer from the bar and sit looking out onto Burlington's streets. Yellow leaves dance down the street, chasing the night away.
---
Stay
Made INN Vermont
Book a room at this quirky, dog-friendly inn where breakfast, lunch, and access to a 24/7 café and a mini-fridge stocked full of Vermont beers are all yours. As a bonus, it's just down the street from Nectar's, one of Phish's earliest regular gigs. 204 S. Willard St., 802-399-2788
---
Eat
The Farmhouse Tap and Grill
This charming spot, with an incredible outdoor seating space, had a wait on the Monday evening I visited, but the crispy onion rings make the wait worth it. 160 Bank St., 802-859-0888
Asiana House
A big steaming bowl of kimchi tofu soup is just what you need on a cold Vermont night. 191 Pearl St., 802-651-0818
---
Do
The Green Mountain State is the nation's second-least populated state, but it has the most craft breweries per capita. As the state's largest city with about 43,000 people, Burlington is at the hub of it all. Try these spots:
Switchback Brewing
160 Flynn Ave., 802-651-4114
Zero Gravity Brewery
716 Pine St., 802-497-0054
Foam Brewers
112 Lake St., 802-399-2511
Magic Hat
5 Bartlett Bay Rd., 802-658-2739