Direct Flight: A Trip to Curaçao
A four-hour flight from Charlotte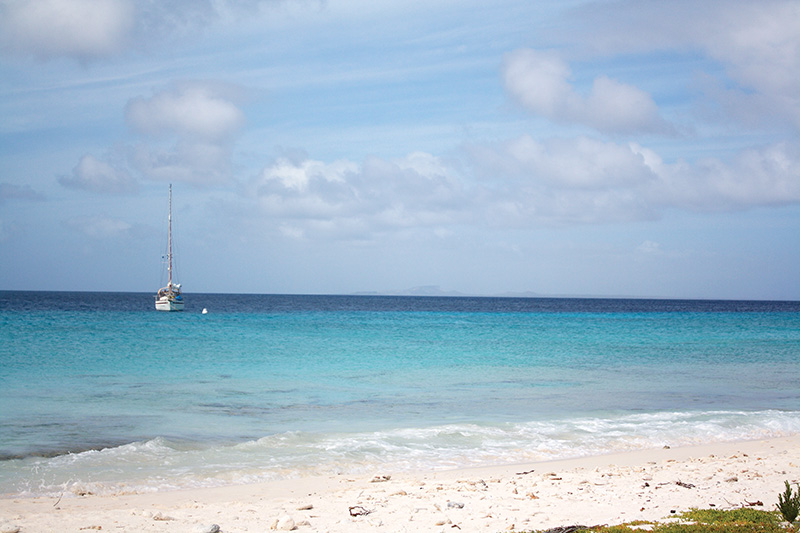 Our Direct Flight Series is presented by Mann Travels and American Airlines Vacations.
Miles from Charlotte: 1,758
Flying Time: 4 Hours
Nonstop Service on: American Airlines
I'M ON THE OPENING PAGES of a spy novel, a few sips of local beer left in a plastic cup on the pool deck. My shoulders glisten from sunscreen. The sun will set in a couple of hours. This is our first day on Curaçao, an island of 150,000 people situated a few dozen miles off the coast of Venezuela and part of the so-called ABC islands that include Aruba and Bonaire. A faint, steel drum version of "Have a Holly Jolly Christmas" drifts from somewhere.
The 2,000-acre Santa Barbara resort, the largest hotel property here, is stunning. We arrived on this Saturday in December and downshifted to island time—service here really does move at a languid pace—quickly. A holiday show at the Blumenthal one night, toes dug into a Caribbean beach the next afternoon. Not bad, we cackle, over piña coladas by the water.
It's the kind of scene that makes you exaggerate a big sigh and look at the person next you and say, "This is the life, isn't it?" I look at Gillian, my girlfriend, who's engrossed in her own book a few feet away, and utter those exact words, because what else can you say as orange rays filter through palm trees?
***
THE FOLLOWING MORNING, I throw on a linen shirt, haphazardly fix a couple of buttons, and step out onto the balcony of our suite. I've never been an activities person on beach vacations. I prefer quiet time with a book—in this case, on a breezy patio—to flying over the beach in some kind of contraption that turns seawater into a jet pack.
Happily, there is no such chaos at this resort. It is uncluttered, more sophisticated than the amusement park atmosphere at too many Caribbean hotels. There are frills, plenty of them, but you have room to breathe.
We spend the day lounging, books and drinks in hand, taking a break only for midday fish tacos, and freshen up in the late afternoon to meet Reggie, a tour guide who will take us to dinner off of the resort.
Reggie putters along a two-lane island road in his Kia compact sedan, past cacti and brightly painted buildings, Christmas music on the radio, dismayed that we didn't decamp to Curaçao for an extended stay. "I can't believe it," he says. "Four days is not enough time!" He is perhaps the most genuinely jovial person I've ever met, and is in no hurry to get us to dinner. He's taking us to a restaurant with a view. "You are going to love it," Reggie says, and when we step onto the wood deck and realize that, for the moment, we have the entire restaurant to ourselves, we gasp.
***
"THIS IS THE BLUEST of water I've ever seen," Gillian says about 12 hours later.
We've made our way to Klein Curaçao, an uninhabited speck of sand and coral two hours by catamaran from the resort. After a swim with sea turtles and a short walk to an out-of-commission lighthouse, I'm hungry.
Throughout our stay on Curaçao, we eat with reckless abandon. There's snapper, ubiquitous in these parts, and shrimp, but also tuna, clams, scallops, whitefish ceviche, crab, grilled langoustine. I call for breakfast in bed one day, a whole cart full of stuff, even the double chocolate French toast, the first time in my life I've ordered room service. We nibble pineapple on our balcony, sip champagne before dinner.
Across the island, the unions call a strike and block a major bridge, preventing us from going into the main town, Willemstad. We had planned to take a tour of the factory where they make Curaçao's famous blue liquor, the stuff of my college nightmares, the only thing we knew about this place before we got here.
Instead, as Reggie drove us back to the resort from a sun-drenched lunch, he offered some advice: "You have to be happy and just enjoy your life." I look around at the palm trees, feel the salty breeze against my cheek. Who couldn't enjoy this? I think.
STAY
The Santa Barbara Beach & Golf Resort has a full spa and plenty of activities, such as kayaks, golf, and stand-up paddleboarding, but don't be ashamed to lounge by the pool. Book an ocean-view room and you'll have a pristine view of the sunset. Dinner at Shore, the fanciest of the property's four restaurants, is best at a breezy al fresco table. The hotel is about 20 minutes from town, so rent a car or ask the staff arrange transportation.
DO
A five-person submarine operated by Substation Curaçao drops visitors more than 500 feet below the surface of the ocean for rare looks at coral reefs, fish, and a couple of sunken ships.
Willemstad, the island's main city, is a UNESCO World Heritage site. Pastel buildings in the city center are irresistible to Instagrammers.
EAT
The scene at Mood Beach is calmer during the day—it gets bumpin' after dark, if you're looking for that. For a breezy lunch, snag a seat by the water and sip the cucumber rickey, a refreshing cocktail made with gin, ginger beer, and lime. Graze on the petit fruits de mer, a bucket of seafood on ice, and gaze at the deep blue sea.
Reserve an outdoor table at Boathouse Food & Marina for half an hour before sunset. Order the scallops. Watch the sky streak with oranges and purples that reflect off of the boats anchored in the bay below. Tell your dining companion how lucky you are.