Direct Flight: A Trip to St. Louis
Finding craft brews in Budweiser's hometown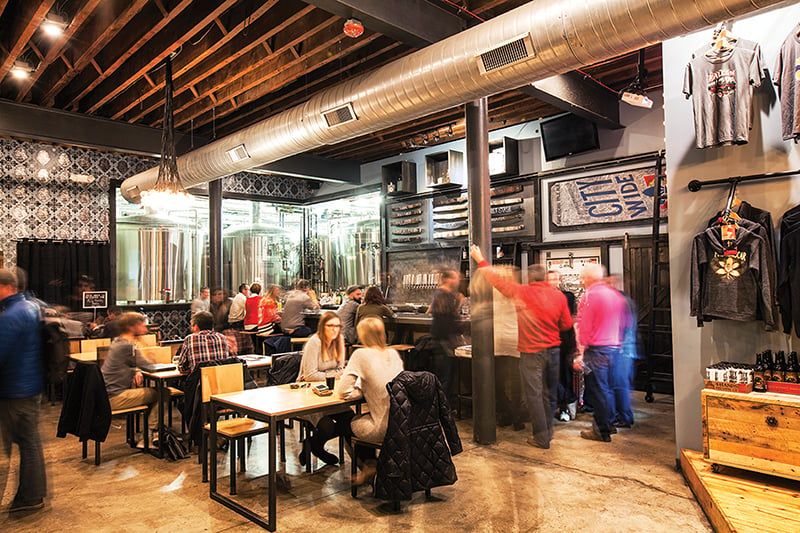 Our Direct Flight Series is presented by Mann Travels and American Airlines Vacations.
Miles from Charlotte: 575
Nonstop service on: American Airlines
I'VE WORKED my way through the crowded Urban Chestnut bierhall, around the long, communal picnic tables and between the packs of revelers, finally, to the bar. I've set down my empty glass stein, suds still clinging to the sides. I've managed to make my voice heard above the cacophony and make eye contact with the bartender. Now, of course, I freeze. I thought I wanted another Bavarian-style lager, but man, that guy's kolsch looks refreshing. Or the tart Berliner weisse she's drinking? Apparently, they have something called a Belgian strong ale? The barkeep is losing patience. My bratwurst and kraut back at the table are getting cold. And worst of all, I'm getting thirsty.
Ordering a beer in St. Louis used to be a lot simpler—if a bit less exciting. You essentially had two choices: Budweiser or Bud Light. This is the home of Anheuser-Busch, makers of Bud, founded by German immigrants in 1852, and built into the largest beer producer in the world. In many ways, that power has been used for good, not only for the local economy, but also on behalf of beer drinkers in and around the Gateway City. It's the reason why Missouri's blue laws, prohibiting sale of alcohol, were among the first state's restrictions to be relaxed and repealed. It's the reason why you can still grab a cold one at the St. Louis Zoo on a Sunday morning. But it's also the reason why the craft beer revolution that hopped across the country in the late 1990s and early 2000s was relatively slow to pull up a stool here under the watchful eye of the King of Beers. Then, in 2008, A-B was purchased by Belgian beer juggernaut InBev. Even though the United States headquarters would remain in St. Louis, it seemed to many locals like a foreign occupation. It was time for the hometown homebrew heroes to take up the STL beer banner.
The result has been a vat explosion of craft beer on the west bank of the Mississippi. Start at Schlafly, which actually fought its way open back in 1991, one of only three breweries in the state at the time, and it is therefore at the helm of the resistance. The Schlafly Tap Room downtown is spacious indoors and out, with live music on weeknights and frequent weekend festivals. Delish fish and chips, mussels, and sticky toffee pudding pair well with its flagship pale ale, white lager, or, my personal favorite, the year-round oatmeal stout.
A wave of tasty reinforcements arrived in 2011. They included 4 Hands Brewing Co., whose 20,000-square-foot downtown brewery features a tasting room that serves up pints of easy-drinking City Wide American pale ale, the City Wide Pils, and a medium-bodied Incarnation IPA. The Civil Life Brewing Co. hosts patrons in an intimate, wood-lined pub with pours of its famous American Brown ale. Every Saturday at 2 p.m., you can tour Perennial Artisan Ales and taste its highly rated Abraxas Imperial Stout, brewed with cacao nibs, ancho chilies, vanilla beans, and cinnamon. Or get a taste of the Gateway City's deep German-American heritage at Urban Chestnut's outdoor biergarten downtown or UC bierhall in the Grove neighborhood. Opened and helmed by A-B expat brewmaster Florian Kuplent, both locations serve authentic German fare and steins of the good stuff, from Zwickel traditional Bavarian lager to the more experimental Moon Monkey summer ale with ginger.
And if you have time, it's still worthwhile to direct your Uber driver to the sprawling Anheuser-Busch campus just west of downtown. There are free tours, visits with A-B's massive Clydesdale mascots, and, best of all, two free samples back in the tasting room. (Pro tip: The pourers are historically known to be a little lax on the math.)
These days, even at the home of the industrial macro-brewers, there are a lot more than two choices.
TONY REHAGEN is a St. Louis-based writer whose work has appeared in Popular Mechanics, Pacific Standard, GQ, and ESPN.com.
---
Stay
Lemp Mansion
3322 Demenil Pl., 314-664-8024
Book a suite at the 33-room, 1860s manse built by the Lemp beer barons, brewers of Falstaff, a popular national brand before Prohibition wiped out the family fortune. The place is said to be haunted by the ghosts of several Lemps.
Eat
Pappy's Smokehouse
3106 Olive St., 314-535-4340
Before you can even open your mouth to ask where the bathroom is, a server will recommend the St. Louis-style ribs, dry-rubbed and slow-smoked over apple- and cherry wood. Goes great with a cold one.
Do
FREE STUFF
St. Louis is the unofficial capital of free family entertainment. The world-renowned, 18,000-animal St. Louis Zoo is open to all (beer stands throughout!), as is the St. Louis Science Center, with its planetarium, hands-on exhibits, and brewing workshop (where you can also buy a craft beer). Visit Grant's Farm, the former home of Ulysses S. Grant and the Busch family, which features petting zoos, Clydesdale stables, and a beer garden where you can get free samples of, you guessed it, beer.
St. Louis Zoo
1 Government Dr., 314-781-0900
Saint Louis Science Center
5050 Oakland Ave., 314-289-4400
Grant's Farm
10501 Gravois Rd., 314-843-1700