#discussCLT: A Non-Mob Scene at the County Commission
But tension over immigrants still ran high at Mecklenburg board meeting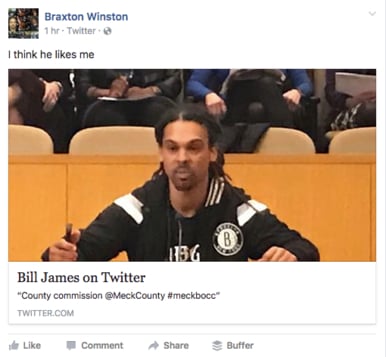 "Pins and needles around here," Mecklenburg County commissioner Matthew Ridenhour tweeted from the dais during the board's meeting Tuesday night. "Feels like something is bubbling up and about to burst." Earlier in the day, two of Ridenhour's fellow Republican commissioners—Jim Puckett and notorious provocateur Bill James—had suggested that federal immigration officers' attendance at the meeting could stave off a repeat of the chaotic February 27 Charlotte City Council meeting—"might have a calming effect," as Puckett, the board vice chair, put it in an email.
Before the 6 p.m. meeting, the potential seemed high for the exact opposite. After last week, I thought the Puckett-James gambit would draw a furious, maybe even violent, response. It never materialized. The council chamber at the Government Center was mostly empty for the Pledge of Allegiance. No Immigration and Customs Enforcement officers turned up. But then, during the public comment period, two people arrived and changed the tenor of the meeting: Manuel "Manolo" Betancur, owner of Las Delicias Bakery and Hispanic Caucus chair for the state Democratic Party; and Braxton Winston, who's become a local activist celebrity since the Keith Scott protests in September.
Both men signed in to speak. Board Chair Ella Scarborough called Winston's name. He strode to the lectern as James passed a note to Puckett on the dais. Winston was nervous. "I come here unprepared, to be completely honest," he said. "I was made aware of a certain article where Commissioner James suggested ICE come to this meeting to quell any kind of democracy that might happen here. I think that is irresponsible."
As Winston spoke, James fiddled with his smartphone. "I think you should be paying attention to me, Mister James," Winston said, "as opposed to looking down at your phone." James continued to look down at his phone. "You have to make a stand for the people of this city and this county. Protect us. Speak for us." James raised his phone to his face to take a photo of Winston speaking, which James then tweeted. "How ya doin'," Winston told James' phone.
Winston was referring to the view from much of Charlotte's immigrant and activist communities that Mayor Jennifer Roberts and the City Council have been too passive and quiet in response to a series of ICE arrests in Charlotte and other cities a month ago. The city has no formal power to do anything about federal immigration law enforcement. But the county Sheriff's Office does participate in the federal 287(g) program, which allows deputies to detain undocumented immigrants on arrest by the Charlotte-Mecklenburg Police Department for ICE to process. "CMPD, CIty Council, the mayor of this city, have been continuously passing the buck of responsibility," Winston said. "I hope you do not."
Betancur, a native of Colombia and an American citizen—"so don't worry"—stressed that he's a business owner, and that he and his 22 employees at the bakery "believe in the American system."
"I apologize when some people are disrespectful," he said, referring to the rowdy group of 200 that castigated the City Council. "But you are also very disrespectful to our citizens when you are silent." Two more speakers signed up and followed them; one, Whitney Smith, had trouble controlling her emotions at the lectern. "I am so pissed off," she said, "that you would suggest bringing ICE in here!"
Commissioners generally don't respond much to public comments, but Tuesday night was exceptional. Pat Cotham urged people to meet with commissioners privately when they had concerns. Scarborough and Vilma Leake, both African American, said they sympathized, drawing a connection to their experiences in the Civil Rights movement.
But it was Trevor Fuller who made the strongest statement—the most full-throated defense of the immigrant community that any local official has made since the ICE arrests.
Fuller acknowledged that immigration is a federal issue "and truly not under our control. But, he said, "ours is supposed to be the land of freedom—freedom from tyranny and fear and oppression. That's what we are supposed to stand for. And I fear that not enough of us are standing for that."
Winston, Betancur, and Jade X. Jackson, a transgender woman who had addressed commissioners on another matter, applauded. "You know, I don't say this for applause. That's not what I'm trying to achieve," Fuller said, voice rising. "This is a very dark time in our nation's history right now. My hope is that we're going to come out of it, but we have to acknowledge how dark it is—that people fear driving on the streets of our community, fear that they're going to be stopped for any reason, and merely because of that, be thrown in jail and deported from our nation … Is this who we are? I cannot believe that's the case."
So what can local leaders do? They can speak out, attempt to influence and persuade, Fuller said. And citizens can, and must, vote. "There are very few tools that I have," he said. "But I've got this big mouth, and I'm going to use it."
Afterward, Winston said his feelings about the meeting were mixed—he was glad ICE didn't show up, of course, but still wishes more local officials would speak up more strongly for the people under threat of deportation in Charlotte, even if they can't do much under the law. "I appreciated Commissioner Fuller's response," Winston told me Wednesday morning. "If there was any voice that brought me encouragement, it was his. You can use your voice, you can use your pulpit … they all can do more to fight the fight. That's the big thing. Their willingness to speak back is action." Betancur said he left with a bit more hope than he had when he walked in: "It's not enough. But at least they said something."
As for the two commissioners who raised the specter of ICE agents at the commissioners' meeting, Puckett congratulated the speakers "because of the passion and decorum you brought," saying they had conducted themselves properly, unlike the crowd from last week. During speakers' and commissioners' comments, he listened attentively. James looked up briefly from his phone once, when Smith recited some of the uglier comments James' followers had posted to his Facebook page. Other than that, he kept his head down and said nothing.