#discussCLT: A Transformed Charlotte, By Design
Janette Sadik-Khan lays out vision of beach chairs and transformed cities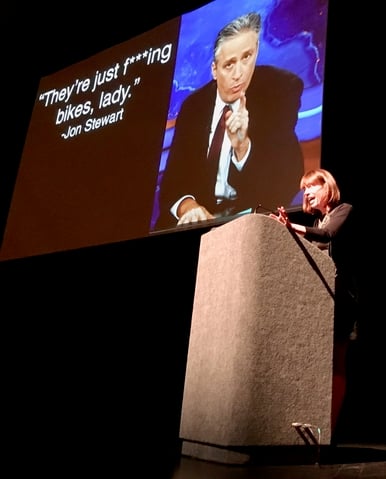 To Janette Sadik-Khan, streets aren't just conduits shunting people around cities. They're where cities live. "Streets used to be more like living rooms. But our choices whittled away when streets began to morph into highways," Sadik-Khan told a crowd of about 500 at the McGlohon Theater on Tuesday night. "This didn't happen by chance. This happened by design."
She's made it her life's work to undo the design—to bring life back to car-choked urban streets by redesigning them with pedestrian plazas, sidewalks, bike lanes, and open spaces, features that Charlotte is only beginning to discover. What she learned over six years as commissioner of New York City's transportation department, and as a consultant to cities around the world, is that life-altering changes don't need two years of study and a 600-page report that no one reads. Sometimes all you need are some orange traffic barrels and a few hundred beach chairs.
In 2009, Sadik-Khan decided, as an experiment, to do something damn near unthinkable: transform Times Square into a traffic-free public place by closing it off to vehicles between 42nd and 47th streets. That left the square an empty expanse of concrete and asphalt, so the department and Times Square business association decided to fill it with hundreds of beach chairs, purchased at $15 a pop from Ace Hardware. The result was astounding. New Yorkers came by to lounge, gawk at the neon, and marvel at an urban clog turned public space.
The city eventually swapped the beach chairs for sturdier replacements, but the point was made. "For New Yorkers who would not be caught dead before in Times Square, it became this great living room for the city," Sadik-Khan said Tuesday. "I really want to underscore this: You really can try ideas out and see if they work. Put out orange barrels and hundreds of beach chairs. I'm telling you, when you guys go out and close Sixth Street or whatever, just think beach chairs. That's all you need."
Sadik-Khan's talk was the first installment of "Building Community: People + Places + Partners," an event series organized by Charlotte Center City Partners and the city's Planning and Neighborhood and Business Services departments, with support from the Knight Foundation. The idea, said CCCP President and CEO Michael Smith, is to introduce Charlotteans to some of the cutting-edge ideas in urban planning and design at a moment when the growing city needs them most.
Sadik-Khan is hailed as one of that movement's leaders. Her book, Streetfight: Handbook for an Urban Revolution, was published last year (and was available for free to attendees). It chronicles how Sadik-Khan and other New York City leaders pushed the changes through against entrenched resistance and what lessons other cities can draw from the struggle. "Every day was a fight to give people more choices," she said, "and every inch of the 180 acres we took away from cars and gave back to people on foot was a battle."
The vision was laid out in PlaNYC, a planning document for the city that could manage growth, give residents more transportation choices, and reduce emissions to combat climate change. Such documents are familiar to anyone who's taken part in urban planning and design over the last few decades, the era of smart growth and the "new urbanism." But it's been hard to translate the vision to action. In a phone interview Wednesday, Sadik-Khan told me she keeps in her office a quote from renowned urban planner Jerold Kayden: "To design is human; to implement is divine."
"The ideas have been around for a lot of years, but the important part is making it happen," she told me. "In New York, we fundamentally changed the dynamic of the street … by making use of the space that's already there." The difference was in actually demonstrating to people how it might work, at times by painting over pavement and closing off spaces over a weekend. On Tuesday, she displayed a photo of the plaza near the Flatiron Building in Manhattan, one of New York's busiest sectors; two hours after the city restricted it to pedestrians, students moved into the space, laid down belly-first and began sketching. "This art class came in—zoom! People are so hungry for public space."
The results, in her six years under Mayor Michael Bloomberg in New York City: nearly 400 miles of new bike lanes and more than 60 new urban plazas, and in Times Square sharp drops in pedestrian and motorist injuries, plus a retail boom for shops. "By looking where the people are walking today," she said Tuesday, "you can plan the city of tomorrow."
Sadik-Khan took a bike tour with Charlotte officials on a beautiful, warm Tuesday afternoon and said she emerged with her mouth watering. Charlotte has already adopted or begun considering a few Streetfight-style touchstones on its own, such as the expanding five-year-old B-cycle bike-sharing program and a proposal for protected bike lanes through uptown that would link greenways on either side. But those are scattered, early-stage efforts compared to the city's potential. "You guys have so much room to play with," she said. "It's a good thing I'm leaving tomorrow."
If she stayed and started to shake things up in Charlotte, especially uptown, plenty of people would be happy to see her leave; her experiments in New York drew ferocious, reflexive opposition from the public and influencers throughout the city. Chief among them was Wall Street Journal editorial board member Dorothy Rabinowitz, who in 2013 reacted to the city's bike-sharing program, Citi Bike, as the work of totalitarians and an omnipotent "bike lobby." (Rabinowitz's over-the-top criticism drew a pointed response from Jon Stewart on The Daily Show, illustrated above.)
Charlotte hasn't yet implemented changes as broad or as quickly as New York's. But considering the opposition to light rail a decade ago, it's not hard to envision the same kind of backlash in Charlotte. "When you push the status quo, it pushes back hard," she said Tuesday. But there's a growing sense that the status quo isn't sustainable, practically or environmentally. Toward the end of her presentation, Sadik-Khan showed a photo of North Tryon Street uptown, with its familiar car traffic and minimal space for walkers, then replaced it with a rendering of a transformed streetscape, complete with a bike lane and a sectioned-off public gathering space with tables, chairs, and landscaping. A part of the crowd at the McGlohon Theater burst into spontaneous applause.