#discussCLT: A Traumatic Week For Charlotte's Latino Community
ICE arrests send immigrants into hiding, panic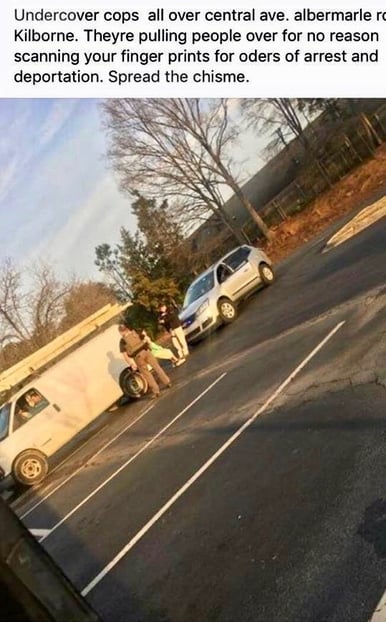 Tin Nguyen, a Charlotte immigration lawyer, posted a photo to his Facebook page at 10:36 a.m. on February 7. Taken in a parking lot from a short distance and at an angle, as if surreptitiously, it shows a pair of law enforcement officers from an indeterminate agency standing near the back of a white van with ladders on its roof. An unmarked silver SUV is parked behind the van. Its door are open. A woman in a light green top leans against the back of the van, her hands behind her back.
Nguyen writes on his page that he received the photo from one of his clients, who writes to accompany it, "Undercover cops all over central ave. albermarle [sic] rd. Kilborne. Theyre pulling people over for no reason scanning your finger prints for oders of arrest and deportation. Spread the chisme." That last word is Spanish for "news" or "gossip."
In the week since, it's been exceedingly difficult to separate fact from gossip about just what U.S. Immigration and Customs Enforcement is doing in Charlotte and in cities throughout the nation. Initially, ICE officials claimed that reports of immigration checkpoints, sweeps, and raids were false, and that the agency was engaged in "routine" enforcement. Then reports in The Washington Post, Los Angeles Times, and other newspapers contradicted that claim, as did firsthand testimony from immigrants themselves.
Finally, on Monday, ICE released details about its "targeted enforcement operations" that led to the arrest of "more than 680 individuals who pose a threat to public safety, border security or the integrity of our nation's immigration system." ICE's Atlanta field office arrested 190 people in Georgia and the Carolinas, including 84 in North Carolina, the agency said. ICE did not specify how many were arrested in Charlotte or what their charges were, except for the mention of one Mexican-born person in the Charlotte area who had been convicted on three counts of indecent liberties with a child, left the country, and illegally re-entered. ICE did not identify the person.
The arrest of 680 people three weeks into the Presidency of a man who campaigned on promises of mass deportation of undocumented immigrants seems to be something more than routine. Manuel "Manolo" Betancur, a Colombia-born east Charlotte businessman and community leader who immigrated in 2000, repeated the word "routine" in disgust and laughed when I spoke with him this past the weekend. "Since I came to this country," he said, "I've never seen so much fear in my community."
We talked on Sunday morning at Las Delicias Bakery, the business he owns on Central Avenue. The bakery is usually packed on Sundays with families picking up Mexican pastries. On this day it was deserted. "It's been like that all week," he said. "Not just myself, but everybody along Central Avenue … nobody knows anything."
Charlotte's Latino community is roughly a quarter-century old, the first immigrants drawn here by large construction projects as the city boomed in the early 1990s. Mecklenburg County's Hispanic population accounted for 1.3 percent of Mecklenburg County's population in 1990. That percentage was up to 12.2 by 2010. The community has never endured a period as traumatic as the one that began February 7, and no one in it can say whether, or how long, it will last. Solid information is hard to come by.
Betancur, a naturalized U.S. citizen, has a hard time buying ICE's line about the recent arrests simply extending existing federal policy. The Obama Administration prioritized deportation of dangerous criminals; ICE in its Monday release said that of the 190 arrested in the Carolinas and Georgia, 127 had prior criminal convictions in addition to their statuses as undocumented immigrants. ICE did not specify what the convictions were for. Rafael Prieto, also a Colombian immigrant and editor of the Charlotte Spanish-language newspaper Qué Pasa Mi Gente, told me Tuesday that he knows of 24 Latino immigrants arrested in Charlotte last week. Five of them, he said, had DWI convictions on their records. The rest, he said, had either traffic offenses or no criminal records at all. The arrests seemed to target immigrants working in construction and landscaping, most of whom are Mexican, Prieto said: "Most of them are just regular workers."
One difference between this operation and any the Obama Administration oversaw is the seeming randomness of the arrests, Prieto said. President Trump's executive order on immigration enforcement last month is written broadly enough, he said, "so that most of the people can be deported."
His paper reported that one of the arrested immigrants, a 46-year-old native Mexican and construction worker named Pedro Flores, is a father of eight who has lived in the United States for 27 years. ICE arrested him Thursday morning near Charlotte Douglas International Airport. State Department of Corrections records show that a Mecklenburg County man named Pedro Flores, born in July 1970, was convicted in April 2002 of first-offense DWI, a misdemeanor. He received probation. Assuming it's the same man, it remains unclear how that 15-year-old offense renders Flores a dire threat to public safety.
During the Charlotte City Council meeting Monday night, Mayor Jennifer Roberts delivered a statement expressing her concern about the ICE arrests and the "fear and chaos" they've brought to the city. She reiterated a point made last week by Charlotte-Mecklenburg Police Chief Kerr Putney, who emphasized CMPD's longstanding policy not to enforce federal immigration laws. True enough, but city officials don't have the power to prevent federal agents from doing that. Neither do officials from Charlotte-Mecklenburg Schools. Rumors have run wild in the last week that ICE agents are waiting at schools to arrest parents when they arrive to pick up their children, and that students with undocumented immigrant parents are skipping school out of fear. Superintendent Ann Clark said Monday that attendance hasn't fallen significantly in schools with large Latino populations.
One thing that is certain: Latino business owners and workers around the country plan a "Day Without Latinos" strike Thursday to protest the Trump Administration's immigration policies and the recent ICE arrests.
Betancur plans to keep Las Delicias closed for the day in solidarity. He hopes he won't eventually have to close permanently because of lost business. He's owned and operated Las Delicias since 2011, and it's become a hub for east Charlotte's Latino community. His American-born children, a seven-year-old son and five-year-old daughter, climbed on their father's lap as he sat behind a desk in his cramped bakery office. A painting hangs on one wall—a fist holding up a sign that reads, "Will Work For Immigration Reform." That's an issue administrations going back to Ronald Reagan's have wrestled with and never resolved.
"It's about the dignity of our people," Betancur said. "If I have to close because of the American system, then shame on the American system."