#discussCLT: Charlotte's Evolving Food Scene
On dishes, sourcing, kohlrabi, and the help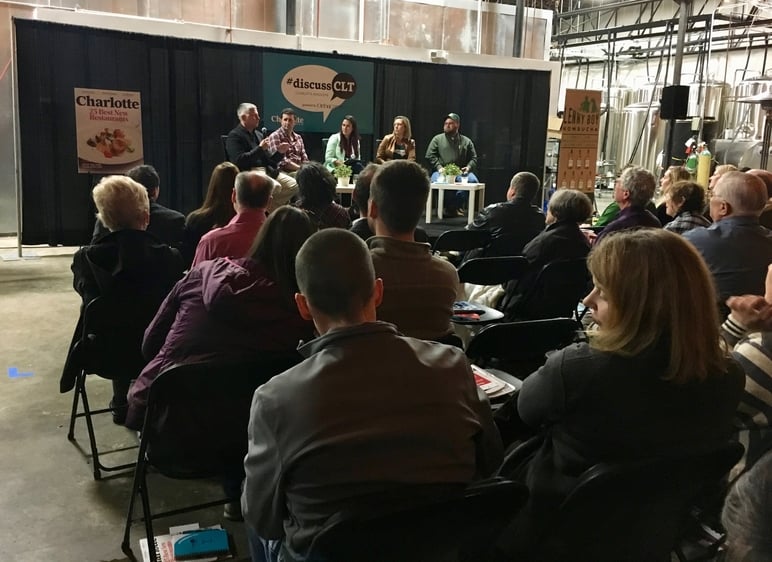 Of all the observations that emerged from the #discussCLT panel discussion last week on the Charlotte-area food scene, the most pertinent came from Katy Kindred, who with her husband Joe has helped elevate that scene considerably with their restaurant in Davidson. "Any food scene in any city," she told a packed house at Lenny Boy Brewing Co. in South End, "it's an evolution."
No one could argue that about Charlotte or any other city. But we thought Charlotte's food scene was worth a program and discussion because there's an in-between, mid-metamorphosis quality to the city's restaurant community that mirrors all the other measures of civic life here—schools, transit, race and class relations—that stand at the intersection of divergent roads.
The number, quality, and diversity of Charlotte restaurants and markets reflect where the city stands in relation to its past. It used to be a mid-sized textile manufacturing town, and the barbecue and meat-and-three-heavy culinary offerings reflected that. "When I got here [in 2000], there was a big cafeteria scene," panelist Bruce Moffett noted wryly. Another panelist, fellow Northerner Frank Scibelli, said the native cuisine consisted largely of "chili-slaw things."
Now it's a booming, increasingly cosmopolitan city with pronounced immigrant communities and newcomers by the truckload—and the food reflects that, too. You can find tapenades and braisings of exotic meats and burger-sushi fusions that were unimaginable, possibly inedible, a decade ago. Some concepts may work; some may flop. But they all contribute to a culture that's clearly going somewhere.
It was a wide-ranging talk that touched on issues as disparate as sourcing, labor, preparation, and Yelp. So, in the manner of a charcuterie board, here's a sampling.
The recent federal arrests of undocumented immigrants in Charlotte have deprived some restaurants of labor and caused serious anxiety for employees and employers of even more. "I cherish every employee," said Moffett, who owns Barrington's Restaurant, Good Food on Montford, and Stagioni. "Even if they have all their stuff in order, they know someone, or they know someone who knows someone, and it's stressful for them."
The discussion of immigrants largely ignores the basic cause-and-effect relationship between Latino farm workers and the cost of the produce they're paid to harvest. Brent Barbee, who owns Barbee Farms in Concord, says he regularly hires Latino laborers through the federal government's H-2A visa program, which allows American employers to hire foreign workers to fill temporary agricultural jobs.
"They are here because they want to better themselves," Barbee said. "The drive these guys have behind them at 4:30, 5 o'clock in the morning—you don't see that in American workers." Without them, he'd suffer, and the pain would roll all the way to the supermarket. "Your food source would dry up very quickly," Barbee said. "You have not seen the cost of food until you have to pay American workers."
Speaking of labor, even in a city with four culinary schools, it's lacking. (I wrote about this a few weeks ago.) Moderator Kristen Wile, Charlotte magazine's senior editor and editor of Charlotte Home + Garden, told the panel she fields questions about Johnson & Wales and other schools' graduates all the time. Why do Charlotte restaurants have such trouble finding good help?
"Some are fantastic. Some are not very good," replied Frank Scibelli, owner of the food group behind Mama Ricotta's, Midwood Smokehouse, YAFO Kitchen, and other restaurants. One strange thing, Scibelli said: He's found that many recent graduates expect to work normal, 9-to-5 hours in an industry built around working at any time but then.
"Why," Wile asked, "do they think that's possible?"
"I don't know," Scibelli said.
For restaurateurs, Yelp reviews are useless or worse. "My marketing people tend to get more excited than I do," Moffett said. "I feel like it gets me worked up for no reason."
People who post overexcited, often negative restaurant reviews via social media aren't reliable judges of restaurant or food quality, added Katy Kindred: "No offense to Yelpers, but we-don't-read-them."
No matter how adventurous restaurateurs and their chefs want to get with their dishes, demand—or the lack of it—will always make them slow their roll. "If nobody wants kohlrabi, no one's going to grow it, because no one's going to buy it," Kindred said. "I just feel like the food scene's going to get better with demand."
When in doubt? "Sometimes I'll serve something people are not used to, and I'll just throw some shrimp on it," Moffett said. "It seems to work every time."