#discussCLT: Clues To ICE's Endgame
WFAE discussion highlights what's known, and not, about immigrant arrests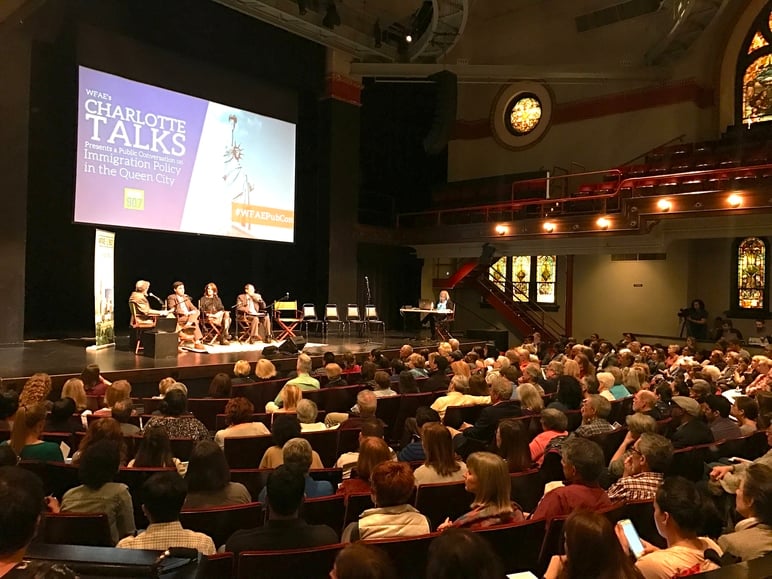 Last night, the President of the United States said he has ordered the Department of Homeland Security to create an office that specifically serves the victims of crimes committed by undocumented immigrants. He also defended his travel ban by citing terrorist attacks that the ban would not have prevented.
Recently, the new Homeland Security secretary approved new guidelines that allow Immigration and Customs Enforcement agents to pursue detention and deportation more aggressively against more undocumented immigrants. They're reportedly not in place yet. Administration lawyers may make changes. It's unclear what those might be.
Increasingly, administration officials are opening up about their imagined endgame on immigration and travel policy: a United States that shuts itself off to immigrants and refugees the administration believes will not assimilate and forces out those it believes enlarge the low-wage labor pool and drive down pay for native-born Americans.
Those are all key pieces of context to try to understand what's happening with Latino immigrants in Charlotte. WFAE held an event Tuesday night on immigration policy and its effects here, via a special episode of "Charlotte Talks with Mike Collins" at the McGlohon Theater. Through all the discussion and airing of opinion, speculation, and concern about the recent ICE arrests of Latino immigrants in Charlotte, one crucial fact emerged for me: No one knows exactly what ICE is doing, when or whether it will end, or precisely how the recent arrests represent a ramping up of ICE enforcement in the city.
Collins asked if there's hard evidence that those arrested for deportation here are mostly dangerous criminals, as ICE has contended and local Latino leaders have disputed. No, replied panelist and WFAE reporter Tom Bullock. "Everything so far," he said, "has been based on anecdotal evidence."
That's been enough to send Charlotte's Latino community into a kind of panic. About 200 of them followed up a protest Monday by shouting down the City Council for their inability to prevent the arrests and unwillingness to speak out more forcefully against them—although there's little the city can do within the law to solve the problem. Starting February 7, rumors have flown around social media and through other channels about at least two dozen Latino immigrants detained by ICE; the agency hasn't specified how many it has arrested in Charlotte but said in mid-February that a large-scale operation had netted 84 arrests in North Carolina.
One thing that is clear: The new administration has rejected the Obama-era prioritizing of gang members and dangerous felons for arrest. From a New York Times story last week:
The Trump administration's far-reaching plan to arrest and deport vast numbers of undocumented immigrants has been introduced in dramatic fashion over the past month. And much of that task has fallen to thousands of ICE officers who are newly emboldened, newly empowered and already getting to work.
Gone are the Obama-era rules that required them to focus only on serious criminals. In Southern California, in one of the first major roundups during the Trump administration, officers detained 161 people with a wide range of felony and misdemeanor convictions, and 10 who had no criminal history at all.
"Before, we used to be told, 'You can't arrest those people,' and we'd be disciplined for being insubordinate if we did," said a 10-year veteran of the agency who took part in the operation. "Now those people are priorities again. And there are a lot of them here." …
"Morale amongst our agents and officers has increased exponentially since the signing of the orders," the unions representing ICE and Border Patrol agents said in a joint statement after President Trump issued the executive orders on immigration late last month.
The new aggressiveness and ICE's secrecy about its practices raise the question of whether the fear and confusion is a deliberate byproduct of the new policy. At least one WFAE panelist thought so. The roundup of 190 people in Georgia and the Carolinas last month "is not just about arresting people," said Dr. Margaret Commins, a Queens University political professor and expert on U.S. policy in Latin America. "It's about creating fear in communities."
At the WFAE event, someone asked the panel how the government could realistically force an estimated 11 million undocumented immigrants out of the United States. Well, one way to cut into that number is to scare them out, an approach that requires minimal resources, an added benefit. The term for this is "self-deportation." If that's the tactic, trying to work out the details of how many arrested immigrants have criminal records and what they've been accused or convicted of, or whether they're "collateral" detainees swept up in the dragnet, is beside the point. If not, the government certainly isn't going out of its way to reassure people.
Bullock noted that Trump's executive order on immigration is written broadly and vaguely enough to, possibly, apply to any undocumented immigrant. "And I say 'possibly,' because you just never know," he added. Save for the agents at the sharp end of the new policy, no one does.