#DiscussCLT Follow-Up: Arts Events & Meet-Ups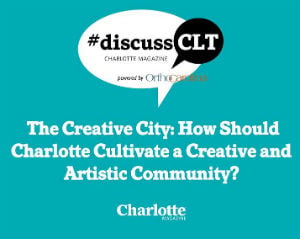 TUESDAY'S LIVELY #DISCUSSCLT EVENT at Charlotte Ballet brought several thoughts and exchanges about cultivating our artistic community. But how do we keep the conversation going? Below, check out a roundup of events, meetups, and venues mentioned during the discussion.
(Read Greg Lacour's piece about the program here.)
GOODYEAR ARTS
Friday, Aug. 26, 6 p.m.-9 p.m.
Free
Friday brings the first showcase for the program's tenure at 516 N College St. The work of current residents Micah Cash, Ramya, and Chris Thomas includes sculpture, painting, drawing, installation, photography, virtual stories, and film.
AN EVENING WITH PAUL CARTER HARRISON
Thursday, Sept. 1, 5:30 p.m.-7:30 p.m. at Foundation of the Carolinas
Pay What You Can ($10 donation suggested)
On Q Productions kicks off its 10th season with An Evening with Paul Carter Harrison. Harrison is an award-winning, revered playwright, essayist, and arts theorist, and he'll present his lecture "Redefining Black Theater."
CHARLOTTE ART CHAT
Third Thursday of each month, 6 p.m.-8:00 p.m. at C3 Lab
Panelist April Marten hosts this monthly meetup, which is centered on actionable discussion about Charlotte's art scene. The group's chats produced Dada Soiree: An Absurd Art Show, which kicks off at C3 Lab on Sept. 2.
UPTOWN ART CRAWL
Free
The first entry in this new monthly series arrives Sept. 22 in uptown. McColl Center, UNC-Charlotte's Projective Eye Gallery, Goodyear Arts, Levine Museum of the New South, the Mint Museum, and other venues participate. Trolley buses help to shuttle visitors around the venues.
CREATIVE MORNINGS
First Friday of each month, 8:30 a.m. at Warehouse 242
The next meet-up is Sept. 2, with Suzie Ford offering a talk. This discussion is part of the worldwide program's series on "Magic." The Charlotte host of Creative Mornings, Matt Olin, appeared on the first episode of the #DiscussCLT Podcast.
JERALD MELBERG GALLERY
Monday-Saturday, 10 a.m.-6 p.m.
Two to Watch, an exhibition mentioned during the program, focuses on young, Charlotte-based artists Nick Napoletano and Matthew Steele. You can read about the exhibit here. The gallery has been a part of the Charlotte arts scene since 1983.