#DiscussCLT: Galleries Showing Local Art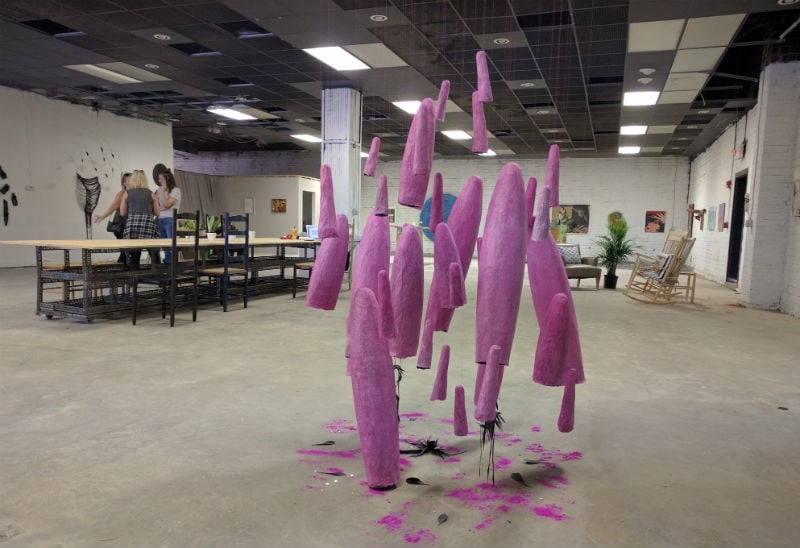 OUR RECENT #DISCUSSCLT EVENT covered several topics within the arts and the cultural community. One was the question of whether galleries in the city were showing local art. Below, we have a list of current shows featuring Charlotte-based talent:
JERALD MELBERG GALLERY
(through Sept. 10) Two to Watch features sculptor Matthew Steele and painter Nick Napoletano. This show is an unprecedented move for the gallery, which typically focuses on established and nationally known artists. We wrote about this show here.
SOZO GALLERY
(through Oct. 3) Mixed-media artist Wan Marsh has a new solo exhibition at Sozo Gallery in uptown. Marsh is based in Charlotte, though her work is shown across the world.
ROSS GALLERY
(through Oct. 9) Amy Herman's it wasn't important until it was recently opened in this Central Piedmont Community College space. Herman's photography features images of projected found photos. More about that exhibit here.
CIEL GALLERY
(Opening Sept. 2) Rust Revival is the September show for Ciel Gallery, featuring photographer Nancy O. Albert and "assemblage artist" Renee Calder. The gallery site says this show focuses on "creating art that embraces the aesthetics of decay."
ELDER GALLERY
(Opening Sept. 2) Painters Painters Stephanie Neely and David Skinner have new works featured in this Elder Gallery exhibition. Neely was a "Best Artist" winner in the magazine's 2011 Best of the Best Awards.
SHAIN GALLERY
(Opening Sept. 16) Nationally recognized painter Andy Braitman has a new solo show at Shain Gallery. Though he's been shown everywhere from Rio de Janeiro to Washington, D.C., his work's also appeared in locals spots like Melberg, e has exhibited at Jerald Melberg, Hodges Taylor, and Redsky Gallery.
GOODYEAR ARTS
(Through the end of 2016) Current two-month residents (starting Sept. 1) include Renee Cloud, Jeff Jackson, and Andy McMillan. However, work from past residents is shown during the space's open gallery hours.
C3 LAB
(Opening Sept. 2) Billed as "an absurd night of art," this opening this week kicks off the C3 Lab show Dada Soiree: An Absurd Art Show. The varied program, which began after a conversation during a Charlotte Arts Chat meeting, is described as featuring "established, mid-career, and barely emerging artists of multiple disciplines have come together to show work, side by side, to demonstrate art in conversation with itself."
NODA COMPANY STORE
(Opening Sept. 2) Smashup is a mini-show from Charlotte-based artist Sharon Dowell. Dowell, who won a 2012 Best of the Best award for "Best Artist," has work shown across the U.S. and is currently part of multiple public art projects in the city.