#discussCLT: Talking LGBTQ Issues With Partners In Life and Activism
Joanne Spataro, Lara Americo relate their story of change in #discussCLT podcast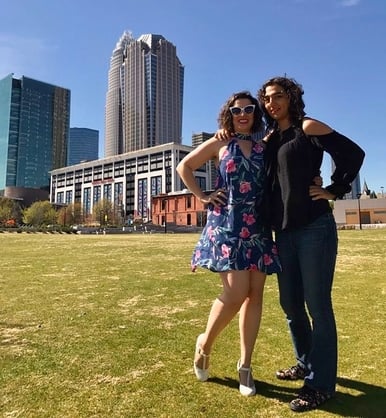 Toward the end of the latest #discussCLT podcast, co-host Andy Goh asks guests (and partners in music, activism, and life) Lara Americo and Joanne Spataro what they might say to a listener who had never met a transgender person, or perhaps had never encountered the idea that someone could be a transgender person. "Forget everything you know about gender and be open to new things," Americo says. "There's a whole world out there."
It's a brave new one, for sure. It wasn't so long ago that gay marriage was a great American social taboo, and merely coming out as gay carried immediate and real risk. In some places, it still does, but the boundaries of the broader culture have expanded in huge, rapid, and unprecedented ways in the last decade.
It's one thing, for example, to accept the legitimacy of transgender people, and for governments to explicitly prohibit businesses to discriminate against them. It's another thing to argue, as Americo did during the podcast episode, that the traditional, binary conception of gender is "an illusion," and that not just sexual orientation but sex is entirely a matter of choice or nurture or both, not nature. For people who believe the Adam and Eve story as literal, or even for those who don't, that would be a hard sell.
But Americo and Spataro continually, and with admirable persistence and calm, make the case for continuing to try. They were podcast guests because March 23 will mark the one-year anniversary of the passage of House Bill 2, which requires no explanation. In that time, Charlotte and North Carolina have lost business, prestige, events, all while serving as a kind of wedge between two different castings of the American people. Just a few minutes ago, the Texas Senate gave tentative approval that state's own version of a "bathroom bill" similar in many respects to HB2.
One of the most striking aspects of Americo's and Spataro's stories is how their transformations, separately and together, have happened as quickly as the movement they represent. (Spataro is gay and a cisgender woman, which means she was assigned female at birth; Americo is a transgender woman who says her male gender assignment at birth didn't match who she was.) Americo began her transition just a few years ago; Spataro was working as a legal secretary at a Charlotte law firm just three years ago when she decided to come out and pursue a writing career.
Since then, she's been published in The Huffington Post and VICE, along with some local publications. Spataro says she looks back at her former life with some annoyance. "I'm basically expressing how I felt all along," she says. "When I was a legal secretary-slash-paralegal, people said some things to me that I just took like a bullet, and [which] now I would never take."
Still other people surprise her. Spataro related the story of a young, religious, highly conservative woman who was a classmate of hers at Central Piedmont Community College. She had no idea Spataro was gay. Not long ago, after her coming out as both a gay woman and activist, her classmate began liking Spataro's tweets, and the two rekindled their friendship. "Sometimes change is not always forward—sometimes it's forward, back a little, it's a little to the side," Spataro says, "but hopefully you're headed in the right direction."
It's worth a listen to get to know some of the issues facing our LGBT community, and also to hear from a couple of bright, engaging, substantial Charlotteans. (Embed above.) More importantly, if your views don't match theirs, they're willing to listen to you, too.