Dish to Try: Soul Gastrolounge's Sashimi Tuna Tacos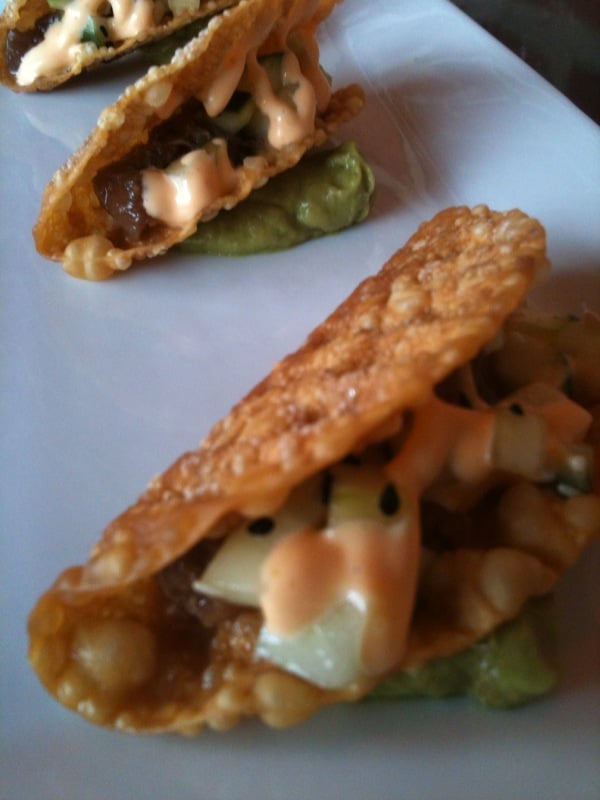 If you've been to Soul Gastrolounge, then you're aware that the restaurant serves small plates and therefore is designed for you to enjoy and share multiple items on the menu. (If you haven't been, then that means you're missing some of the best food in this city and I'd suggest going. Quickly.) The beauty of small plates is sharing them with friends and tasting numerous delicious treats from Chef Jason Pound's kitchen. The tragic flaw of small plates is that if food is shared, it means less for you. And trust me, once you've tasted these sashimi tuna tacos ($8), you're really going to want all three. Actually, that's not true. You'll want two orders. And you'll want all six.
The dish is composed of three miniature fried wonton tacos, stuffed with fresh diced tuna, topped with a slightly spicy sriracha mayo, and then served over a small dollop of creamy guacamole. They're messy (I still haven't decided if it's easier to eat them with a fork or your hands), but that shouldn't deter you. You can order them with a shot of sparkling sake ($3) and, of course, other dishes (they pair nicely with the Soul Roll sushi—an eight piece role featuring spicy salmon, cucumber, jalapeno, white tuna, wasabi aioli, and chili and spicy mayo sauce, $9). But however you choose to order them, make sure you're getting your order all to yourself.
Soul Gastrolounge is located at 1500-B Central Ave. and can be reached at 704.348.1848.