Dish to Try: The Cowfish Sushi Burger Bar's Nachos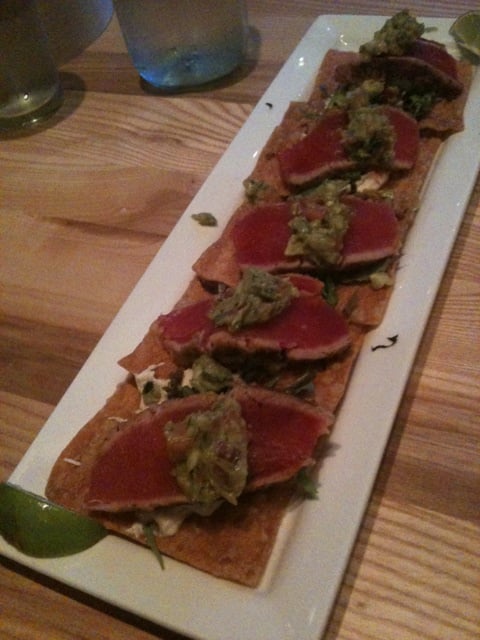 I have to admit, I had some hesitations about the new Cowfish in SouthPark. Specifically, I wasn't sure what to think about a place focusing on burgers and sushi—two foods that strike me as quite different. However, I was lured there by the promise of something called "Burgushi," a combo of sushi and burgers. I was intrigued—and I liked saying the word.
For more on the Burgushi—and the restaurant in general—check out our upcoming January issue. For now, I'll just say that it's got a cool vibe, massive menu, and one of the more educated-on-the-dishes wait staffs I've ever experienced.What I wanted to focus on in this entry though are the Blackened Ahi Tuna Nachos (pictured, $11). Nachos served at a sushi/burger place. It's like there was a competition to see how many different international influences could go into one dish.
I didn't order them though to test out the chef's ability to juggle Japanese, American, and Mexican food trends. I ordered them because they were crispy wonton chips topped with creamy crab rangoon dip, seared slices of ahi tuna, and homemade pico de gallo with avocado, which sounded like my idea of heaven.
The nachos didn't disappoint. It was a strange mix—the hot dip with the cool avocado and tuna. But it worked. Very well, actually. The tuna was cooked perfectly and the wontons remained crispy, despite a generous slathering of the creamy crab.
As I mentioned, it's a huge menu (there are apps, soups, salads, burgers, sandwiches, entrees, sushi, milkshakes, and, of course, burgushi), so I still have lots more to try. If you already have a favorite from Cowfish's menu, feel free to leave it in the comments section—I'd love to hear about it!
The Cowfish is located at 4310 Sharon Road and can be reached at 704.365.1922.