Distinctive Charlotte Buildings Recall a Once-Dominant Grocery Chain
A&P stores have checked out, but the structures still stand in a pair of neighborhoods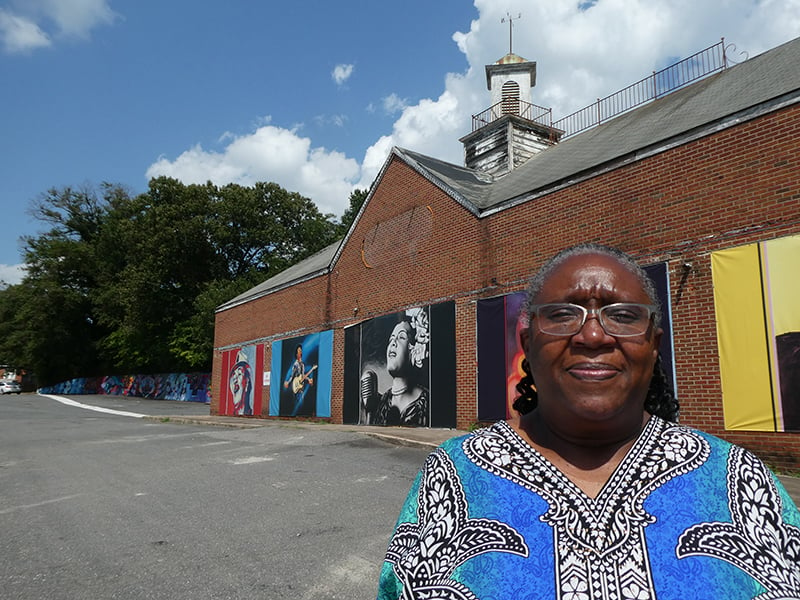 Riding the new LYNX streetcar out West Trade Street from uptown to Johnson C. Smith University, I'm drawn to the handsome old supermarket building that locals call "the old Park-N-Shop." It's red brick, topped by a hip roof with a distinctive A-shaped gable in front—a mid-20th-century riff on Colonial architecture.
Hmm, have I seen that before? Yup, over on The Plaza near 36th Street: the Giant Penny supermarket. What's the history that connects them, I wonder? An internet dive leads to Pleasant Family Shopping, a blog that documents these buildings throughout the U.S. and Canada. They're "A&P Centennials."
Older folks fondly remember A&P supermarkets. The Great Atlantic & Pacific Tea Company, launched in 1859, became America's first great grocery chain. By the 1950s, it was America's biggest retailer.
For its 100th birthday in 1959, A&P wanted a store design that would shout "history." Colonial Williamsburg in Virginia was a top tourist destination. Even though A&P hadn't existed in Colonial days, the company decided to borrow a bit of Williamsburg's mojo. Red brick? Check. White wood trim? Check. Homey roofline? Check. How about a quaint wooden cupola? Check.
A&P planted an early Centennial in Charlotte, where the population had jumped 50% during the '50s. The store on suburban Freedom Drive was "one of the first in the nation to employ the 'Williamsburg' type of architecture," The Charlotte Observer reported in December 1959. "Topping off the design of the new store is a handsome cupola reminiscent of 18th century Virginia architecture. … 'There are only three or four others built in this style in the U.S.,'" an A&P vice president said. Today, it's a Family Dollar, but there's no mistaking that A-shaped front center gable.
The Centennials I spotted on The Plaza and West Trade opened in 1961 and 1967. The West Trade store quietly embodied a civil rights triumph. The North Carolina NAACP had filed a lawsuit under the 1964 Civil Rights Act, demanding that the A&P chain hire Black cashiers and managers. Opening-week ads for 1600 West Trade included photos of its leadership team, including Samuel Mills, a Black produce department manager.
A&P's fortunes slipped over the years. Pressure from competitors like Harris Teeter brought the chain's demise in 2015. Long before that, the buildings on The Plaza and West Trade had filtered into other hands.
Loc Tran, who immigrated to the U.S. after the Vietnam War, recalls that his family bought 3330 The Plaza in 1992 from Giant Genie, which had taken over after A&P. The Tran family succeeded there by serving budget-minded, blue-collar customers. "We were too cheap to change the entire name," he says with a chuckle, "so it became Giant Penny."
Today, Giant Penny attracts a loyal clientele, whose members like the in-store butcher who supplies old-timey cuts like chicken feet and hog maws. The store's vintage look has drawn movie crews; watch for a cameo in the upcoming Are You There God? It's Me, Margaret.
The West Trade A&P has seen tougher times: It was boarded up after the Park-N-Shop closed years ago. But it's acquired fresh life thanks to Historic West End Partners, led by longtime resident J'Tanya Adams. The city awarded the organization a grant through the CARES Act, and the money paid for artists to paint murals that overlook the old parking lot, now an impromptu plaza. Food truck gatherings and the weekly Rosa Parks Farmers Market drew crowds this past summer.
In May, the philanthropic Duke Endowment donated the property to JCSU. Adams hasn't heard any firm plans. But she's reached out to the general manager of Weaver Street Market, a popular, Carrboro-based cooperative grocery. "I showed him several sites," she says. "He lit up when he saw this." Could a supermarket open again on West Trade Street?
Building History is a monthly series that highlights Charlotte's historic buildings. Tom Hanchett, a local historian since 1981, is the author of Sorting Out the New South City: Race, Class, and Urban Development in Charlotteand former staff historian at the Levine Museum of the New South. Follow him on Twitter at @historysouth.