DIY: Reupholster Your Dining Room Chairs
Don't splurge on a brand new dining set if you don't need to – make any antique chairs look fresh with this simple tutorial.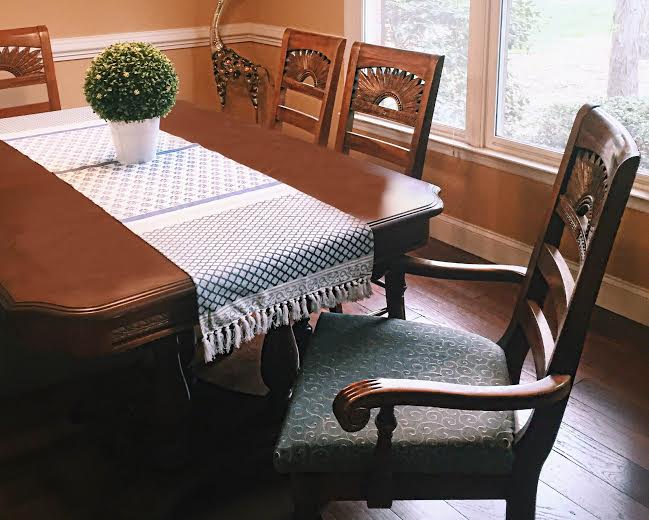 Buying used furniture no longer carries the stigma it once held. In addition to reputable antique stores, a number of websites (such as Move Loot) have made buying used furniture a normal and financially savvy way to furnish your home.
When it comes to your dining room, buying a table and chairs set is an important investment for a variety of families. Newlyweds and new homeowners are amongst those whom might think twice about splurging on their "first" dining table set, and there is nothing wrong with that.
In fact, purchasing antique or previously owned dining furniture is a great idea, especially when you learn how to reupholster your chairs.
Letting "outdated" fabric on previously owned chairs deter you from purchasing a heavily discounted set is no way to look at furniture shopping. Buy a used dining set for its shape, presence, and wood type – not for its fabric pattern. You can easily reupholster your chairs using the DIY tips below, making your old dining set look brand new.
First, determine how much fabric you will need.
Measure the height and width of one seat, and account for a couple extra inches on each of the four sides. This allows room for wrapping underneath the seat to fully cover the area. You will need approximately this measured amount of fabric to cover each chair.
Next, pick out your fabric.
Any crafts store such as Michael's, Hobby Lobby, or your local fabric shop will have yards of fabric for you to choose from. Consider the theme of your dining room, the color of the table/chairs, and any other accents like an area rug that might coexist in the room. You may also want to choose a darker color if your family or guests are prone to spills.
It is now time to remove your old fabric.
One by one, flip over the chairs and assess how the fabric is attached. Many models use simple staples, and others use screws. Remove the hardware with respective tools as needed, and the old fabric should come off easily.
Place the bare seat bottom on your new fabric.
making sure that the patterned or colored side will show on the top of the seat. Trace farther out than the exact size of the seat (those extra few inches mentioned earlier) and cut a piece of the fabric for the chair. It's OK if it is not a perfect snip, as it'll be on the bottom of the seat.
Reattach the new fabric the same way the old one was fastened.
Whether it was stapled or screwed, use the same method to reattach the new style. Be sure to pull the fabric tight when fastening, paying attention to corners and folding where it seems naturally correct.
Flip your chair back over, and ta-da!
You've got brand new dining room chairs, transforming the look of your dining room and updating the antique furniture to look just as fresh as a set triple the price.