DNC a Hot Topic At Charlotte Chamber Retreat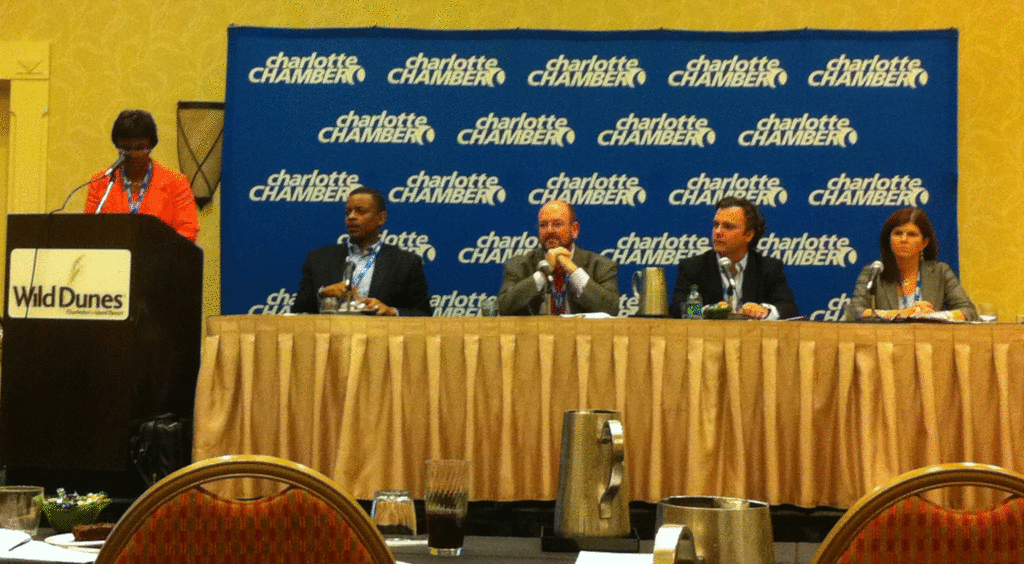 This is the second day of the two-day Charlotte Chamber Fall Planning Retreat, taking place at Wild Dunes Resort in Isle of Palms, South Carolina, just outside of Charleston. A week before the annual retreat, the Chamber reported that turnout was going to be one of the largest ever, saying they had to cap attendance at 180 people due to space limitations. I think you can pretty much attribute the eagerness in attendance to one thing: the Democratic National Convention.
The Chamber had previously stated in the agenda for the two-day event that Thursday afternoon's sessions would focus largely on the DNC. Businessmen and women and public officials in Charlotte have continuously shown they want to be close to every opportunity they can to gain insight into opportunities with the convention. The sessions featured Mayor Anthony Foxx, DNCC CEO Steve Kerrigan, DNC Host Committee Executive Director Dan Murrey, and Luquire George Andrews President Peggy Brookhouse, among others. And the Chamber took it beyond the usual players and brought in leaders from the 2008 DNC in Denver to share stories and advice from their experience.
Below is a video of Charlotte Chamber President Bob Morgan talking with Michael Dino, who served as executive director of the DNC Host Committee in Denver. They discuss lessons learned and what Charlotteans can expect. Dino says that from what he's seen so far, Charlotte has "a great enthusiasm that it takes to host an event like this and that's one of the big things. Have great enthusiasm, a desire for it to be successful, and think outside of the box, so you got three good ingredients already going for you. I think the next big, important key is to raise the money, have some fun with it, and enjoy the fruits of your labor once it comes."
You can get more insight into the Chamber's retreat and learn more about topics discussed involving the DNC by going on Twitter, where the Chamber encouraged guests to use the hashtag #CLTplanning. If you scroll down the timeline to around 3 p.m. Thursday and then work your way up, you'll see numerous tweets recapping things said about the DNC inside the sessions. You can also visit the Twitter pages of the Chamber's Natalie English, Charlotte Business Journal's Erik Spanberg, and Charlotte City Councilman Warren Cooksey, all of whom have done a lot of live tweeting yesterday and today.
A few noteworthy tweets:
"Dan Murrey says 'we'll probably raise more than 80 percent of our money outside the state.' No specifics on how much raised." —@CBJspanberg
"Denver host CEO Dino: 50,000 visitors for 2008 DNC; 154 arrests. 0.3%. Not bad." —@WCooksey
"Sonja Gantt asks what would you do differently. Elbra Wedgeworth (Denver) says post event is important time & we shouldn't forget that." —@cltlobbyist