DNC Comes to CLT: Where Should They Shop?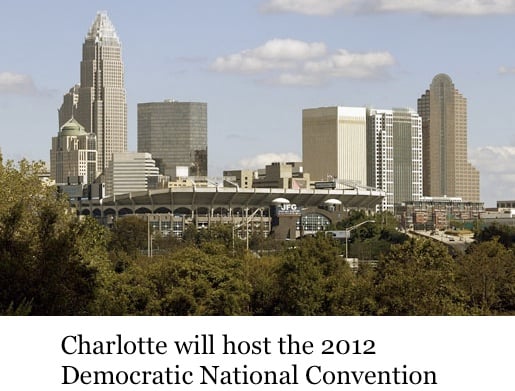 By now you've all heard the big news… Charlotte has officially been chosen as the site of the 2010 Democratic National Convention. Clearly this could mean really great things for our city's economic recovery and development, and that is wonderful, but for the economic impact to really make a difference these DNC'ers need to SHOP!
Charlotte is home to such a great, varied and friendly retail community and so many of our favorite stores have been working their butts off to keep the doors open and keep growing their clientele during the last two years. I sincerely hope that those delegates come with their wallets open and ready to explore the many great stores that make Charlotte so stylish.
Here are some of the areas I'd tell any delegate to hit while they're in town:
East Boulevard — The charming promenade that is home to favorites like Paper Skyscraper, Cottage Chic, Monarch, IC London, Petal, Laura James Jewelry, Sloan, and STEP by Sloan.
SouthPark— In addition to our show-stopping mall boasting stores like Neiman Marcus, Nordstrom, Michael Kors, Hermes, Louis Vuitton, Kate Spade, Tory Burch, Apple, and Burberry this 'hood is also home to great boutiques like Scout & Molly's, Chez Elle, Captiol, Poole Shop, Hotham, Black & Blue, Nesting, Pickles & Ice Cream, Ivy & Leo, Coplon's, Luna, K.La, Taylor Richards & Conger and TRCW.
Where else would you tell these DNC visitors to go? The Pink Hanger in Cotswold? Niche in South End? Revolution in Uptown? Hong Kong Vintage in Plaza Midwood? 72 Shoe Boutique in South Charlotte? The Boulevard in NoDa? Monkee's in Davidson?
Let me hear your must-shop picks for visitors in the comments or on twitter!