Does Charlotte Have a Media Crisis?
Basically, yes, and media are compelled to constantly reinvent themselves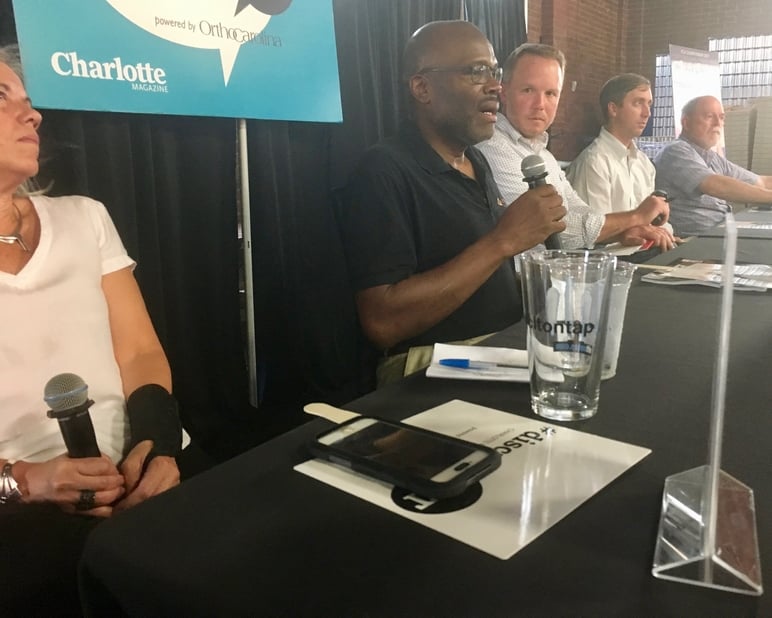 We had a #discussCLT event last week to discuss media in Charlotte. Specifically, we wanted to talk about how print and web-based media are navigating the rapids of new business models and the digital marketplace.
This discussion was held in the non-air conditioned back room at Lenny Boy Brewing Co., which in retrospect may not have been an ideal spot. It was a bit toasty back there. Yet we hope the folks who attended gained a more nuanced understanding of the challenges facing media and the difficulty, if not futility, of trying to predict where it's all going.
Here are five high points. I'm sorry, but there was no way this report was not going to be a listicle.
ON THE SUBJECT OF FAKE NEWS
"Fake news" is a term that refers to concocted, deliberately false stories designed to look like news, usually in order to earn web traffic that translates to online advertising revenue for their creator. It does not mean news stories with errors of fact. It does not mean news stories that you or anyone else does not like. People either fail to grasp the distinction or do grasp it but pretend not to for political reasons, or financial ones, or both.
"I think it goes to intent," said panelist Glenn Burkins, founder of Q City Metro and a former Charlotte Observer business editor who was sitting next to the current Observer features editor, Helen Schwab. "If I'm trying to report an accurate story on Helen, and I get some facts wrong—even some substantial facts—that doesn't make it a fake news story. It's unfortunate that the term 'fake news' has been effectively hijacked for political purposes, because it's a very real and a very serious problem."
ARE 'CITIZEN JOURNALISTS' JOURNALISTS?
Not really. "Everybody's a publisher now," noted Ed Williams, the longtime Observer editorial section editor, now the chairman of WFAE's board of directors.
Schwab paraphrased David Simon, the former Baltimore Sun reporter and creator of The Wire and Treme: "Your neighbor who's a really good listener is not a citizen social worker, and your neighbor with a garden hose who's willing to help you is not a citizen firefighter. Journalism requires a lot of training. It is a profession, and it cannot be done by amateurs—and I say that in a loving, supportive way. It's hard."
WHAT WILL MEDIA LOOK LIKE IN 15 YEARS?
As mentioned above, no one knows exactly what forces will shape media in the coming years, any more than we could have predicted in 2002 that everyone would have a smartphone today. "I don't think anyone can answer that," Burkins said. "I think we're much closer to the beginning of this than we are to the end."
Yet you can detect some general trends, which is why we asked Charlotte Agenda founder and CEO Ted Williams to take part in the discussion. Williams started Agenda in 2015 as a scannable online newsletter designed to appeal to a younger readership, and its Buzzfeed-inspired mix of news and where-to-eat-and-party fluff has proven both financially sustainable and risible to the traditional journalism crowd.
But Ted Williams made a few undeniable points, including this one: "You used to be able to think about the journalism first, business model second, and you can't do that right now. So you need to think, 'What is my business model, and, given that business model, what journalism can I do?'
Most journalists over, say, 35 did not go into the field with entrepreneurial designs. That's changing out of necessity, Ted Williams said. Journalists who can't figure out how to build and sustain a financially viable enterprise, even if only on their own, will have to turn their careers into paid hobbies or find something else to do for a living.
The changing market has forced journalists to rethink their assumption, forged over decades, that their work was what sold the product. Not so much, it turns out. The classified and display advertising money that until a decade ago provided the newspaper industry in particular with 80 percent or so of its revenue, Ed Williams said, "has just vanished."
FRAGMENTATION
This was the depressing part. A young woman asked the panel about how media outlets can work harder to make sure minorities are treated with the same deference as white people—citing the example during Hurricane Katrina of a photo caption of a black man "looting" and another of a white couple "finding" supplies.
Charlotte native Brigida Mack of WBTV had accepted our invitation to join the panel but had to cancel at the last minute to tend to her ailing husband. That left Burkins as the only racial minority on the panel. He answered the woman's question bluntly.
"Can I take a stab at that? I don't believe we can," he said. "And I hate to sound pessimistic and like a broken record, but I believe that's why we're going to niche publications."
Q City Metro is aimed specifically at Charlotte's African-American readership, and Burkins believes publications that target specific audiences will have far more success than generalist publications such as daily newspapers. That's not even the wave of the future. It's the wave of the present, and it's just going to get bigger.
"I think to some degree it was probably folly to believe that we could create one product that could make everybody happy," he said. "We were able to do it for a while because the money was just so good. But now that the money isn't there, I think the flaws in that business model are becoming apparent."
Along the way, he mentioned something else that echoed some earlier comments by Schwab and other panel members: The national populace is so divided politically and economically, it's hard to imagine any media outlet appealing to everyone. Social media algorithms enhance that divide by funneling content to users based on their demonstrated preferences. It's a classic chicken-and-egg story, and the cycle sets a troubling course not just for media but public life in general.
'NO ONE EVER WANTED THE BROCCOLI'
In discussing the Observer's growing use of digital traffic to guide editorial choices, Schwab—who began working for the paper in 1982—referred back to the blind old days, when reporters would write paper-of-record stories out of City Council and zoning board meetings that few, if anyone, would ever read.
"We in journalism spent a lot of decades not having to care whether people read our stories, because we didn't have a way to tell, and it didn't matter to us," she said.
"There was a time when newspapers were like cafeterias," Burkins replied. "They put out a lot of stuff. Not everyone wanted the broccoli …"
"No one," Schwab said, "ever wanted the broccoli."