Does the Promised Supperland Deliver in Plaza Midwood?
Part steakhouse, part garden party, this new spot shines in an old place of worship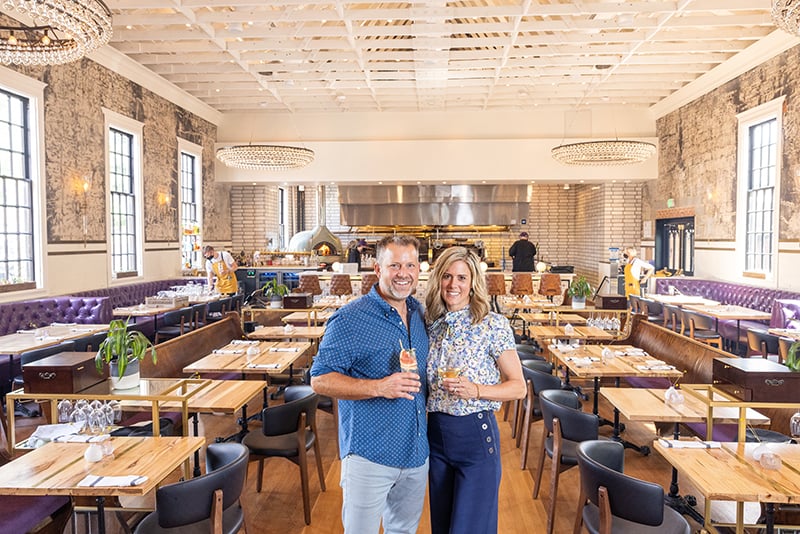 After more than a year of construction delays and pandemic-related setbacks, Jamie Brown and Jeff Tonidandel's anticipated restaurant, Supperland, finally opened in March. The spouses and business partners—who also own the NoDa establishments Haberdish, Crepe Cellar, Growler's Pourhouse, and Reigning Doughnuts—transformed a 69-year-old former church in Plaza Midwood into a restaurant and cocktail bar. From the moment you pass through the wrought-iron double doors, it's clear the couple used their year on hold to fine-tune every detail, from the mosaic bathroom tiles to the custom dinner plates embellished with birds, butterflies, and flowers.
The nave functions as the main dining room. The sanctuary is now an open kitchen framed in marquee-like globe lights, like a grand stage. The nine-seat chef's counter gives diners a view of the 14-foot fire grill, where the smell of North Carolina hickory wafts through the air. To retain the church's character, they kept the walls raw and refinished the two-toned floors. Purple leather-upholstered pews run down both sides of the space to form booths with wooden dining tables that Tonidandel built himself. Downstairs, a private dining room accommodates up to 10 guests, and a wall-to-wall wine display holds more than 200 bottles.
The church annex out back houses The Bar at Supperland, where lead mixologist Colleen Hughes makes cocktails garnished with edible flowers and served with gold metal straws on plant-based coasters. If you have to wait for a table—honestly, even if you don't—have a seat and order a Highball ($12), a Midwood Manhattan ($14), or a drink from the absinthe fountain. Then take your beverage and meander back to the dining room or grab a table under the pergola in the courtyard.
Chef Chris Rogienski's menu starts with a mix of appetizers like Hot Onion Dip ($9) served with warm potato chips, Baked Brie Bites ($16), and NC Roasted Oysters ($16) delivered with a pot of coal-heated butter sauce. The Seven-Layer Salad ($14) is served in a glass pedestal bowl brimming with collards, black-eyed peas, carrots, goat cheese, and edible flowers.
Entrées and sides are all served family-style. The Pork Can Can ($46) is fire-grilled, bone-in pork with a cherry-mustard compote that's both tangy and savory. The Flanken ($19) is beef short ribs topped with horseradish gremolata, an herby condiment with a punch of citrus. The Wagyu Pot Roast ($32) is a slow-cooked wagyu roast in savory vegetable gravy; get it with an order of Porridge Bread ($7) to soak up all the drippings.
Sides include grilled vegetables like the Bone Marrow Broccoli ($13), charred florets sprinkled with crunchy benne seeds, and Blackened Onions ($9), roasted sweet onions with extra-virgin olive oil. For something unexpected, order the Franks & Beans ($13), a hearty bowl of red field peas and chopped wagyu hot dog. For something you won't want to share, get the Miso Mac & Cheese ($14), bite-sized shells topped with miso cream.
The dessert menu includes a rotation of pastry chef Liana Sinclair's handmade, individually sized pies in flavors like Chocolate Peanut Butter ($15), Citrus ($14), and Sweet Potato ($13). If you'd rather take your treat home, order a box of four Chocolate Chunk Cookies ($16) with pecans and benne seeds from the Sweets To-Go menu.
Supperland has so many thoughtful touches and tempting eats that one visit isn't enough. Come back for a date night, birthday dinner, or Seafood Saturday. Order something new, have a cocktail on the patio, and don't forget to check out the yellow floral floor tile in the bathroom on your way out.
> Don't leave without trying: The Miso Mac and Cheese topped with miso-infused whipped cream is a grown-up spin on a childhood staple.
> Bring the dining experience home: If you're still thinking about those custom Villeroy & Boch dinner plates after you leave, you can order a set for your own collection through Supperland's website.