Don't Miss these Sustainable Living Classes
Register now to learn from Mecklenburg County Cooperative Extension agents and Master Gardeners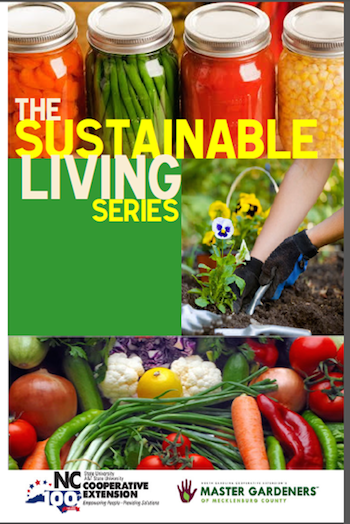 The Sustainable Living Series is a success. Go to the registration site to see the proof. Only a few spots remain in this yearlong series of classes about bettering your lifestyle through gardening, incorporating eco-friendly practices, and eating healthier.
The series, put on by the Mecklenburg County Cooperative Extension, is a collaboration between the Mecklenburg Master Gardeners and Mecklenburg Family and Consumer Sciences. In its second year, the series has a comprehensive approach. For example, Master Gardeners teach classes on how to plant and harvest, and Kristin Davis, a family and consumer sciences extension agent, teaches preserving through pickling and canning.
"One of the things we do well in extension is lots of evaluation," Davis says. She and other extension agents distribute surveys to find out what topics interest community members. They also keep track of all the phone calls received at the extension office. For example, Davis taught a class toward the end of April about preparing raw-food dishes because many people had asked how to incorporate raw foods into their daily meals.
"A huge part of the process is to encourage citizens to support local food and see the value of agriculture, of growing your own food," Davis says. Davis, who has a background in local food, food safety, and nutrition, joined the extension with this local-food-awareness goal in mind.
This Wednesday's class called Garden Beauty on a Budget is already full. The class cap is about 30 people because many of the classes involve hands-on activities and demonstrations. If the class gets too large, Davis says, people don't receive the same experience.
Upcoming classes that aren't yet full include From Kitchen Scraps to Garden Gold, Fresh & Healthy Meals for the Busy Person, and Landscaping Ideas for Beginners. Click here to register. Most of the classes in the series are free, but some, such as the canning and green-gifts classes, require a small fee to cover materials. Handouts with information from previous workshops—such as tomato-growing tips and recipes for raw-food dishes and eco-friendly, household cleaners—are available on the Sustainable Living Series website.
Mecklenburg County Cooperative Extension is one piece of the statewide North Carolina Cooperative Extension service, which is a program through North Carolina State University and North Carolina A&T State University to provide education and technology to residents throughout the state.