Don't Miss These Upcoming Events
Sip wine in the garden, learn how to attract hummingbirds to the backyard, enjoy some ice cream, and take advantage of a big summer sale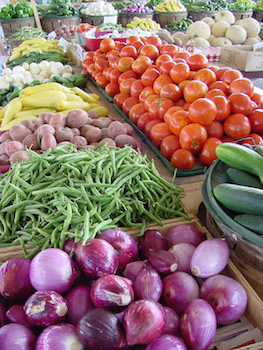 Enjoy these summertime days with five local events.
1. If wine, art, and gardens sound like the makings of an ideal Thursday evening, visit Daniel Stowe Botanical Garden tomorrow for its Summer Nights event. From 5 p.m. until 9 p.m., the garden invites visitors to tour the grounds in the cooler hours. An evening art walk at 7 p.m. discusses the current exhibit, ZimSculpt. And a wine tasting includes Southern African wines that are becoming popular here in the United States. The event is free with the cost of garden admission.
2. Cottage Chic on East Boulevard is holding a month-long sale. The event is called a Gambler's Sale because the prices decrease every week, but if you wait too late, the best items might be gone. This week, the shop's merchandise, which includes clothing and home furnishings, is 60 percent off. On Friday, the discount moves to 75 percent and continues until the last day of July.
3. The Davidson Farmers' Market plays host to Ask a Master Gardener Day on Saturday. Mecklenburg County Extension Master Gardeners will be available to answer questions about a variety of topics, such as organic gardening, companion plants for vegetables, plant selection, composting and vermiculture, native plants, and lawn care. The market is open from 8 a.m. until noon.
4. The normal Green Market Saturday at 7th Street Public Market will include the "We All Scream for Ice Cream" event this weekend. Vendors will offer special ice cream treats and recipes. The market opens at 8:30 a.m. on Saturdays.
5. Pike Nurseries in Ballantyne holds a free Hummingbird Gardening class on Saturday. Lean what plants and features you can add to your backyard to attract these flying friends. The class begins at 9 a.m.