Down on the Farmhouse: A Visit to Fonta Flora Brewery
Where Charlotte's beer scene pours into the country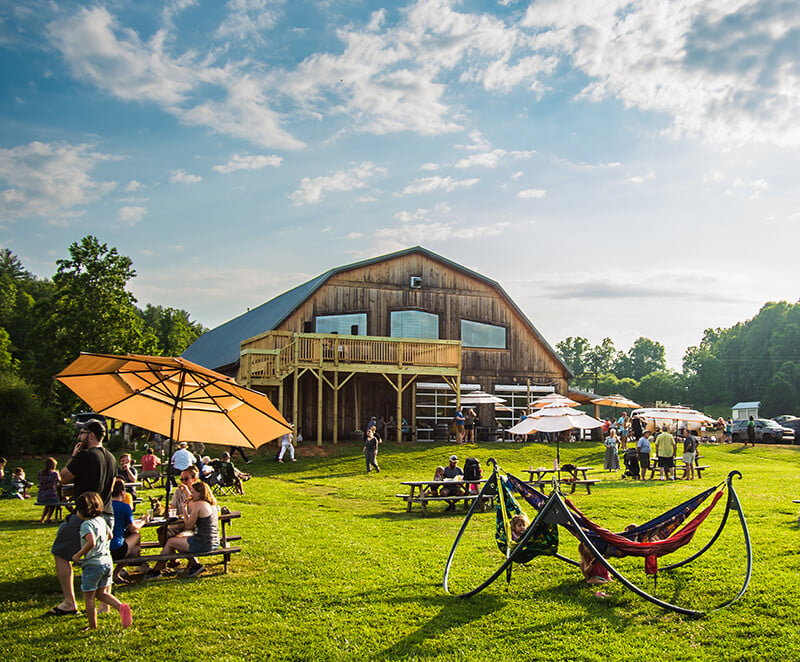 Craft breweries typically set up in small spaces in urban neighborhoods—former mechanics' garages, say, or textile processing shops. In Charlotte, Devil's Logic Brewing is tucked between its neighbors near the Central Piedmont Community College campus, and Protagonist Beer's NoDa taproom squats beneath condominiums in the old Fat City building on North Davidson Street.
Cozy can be cool, and city bustle can invigorate. But sometimes, as you hoist a pint glass, you discover that your elbows could use a little room. Fonta Flora Brewery has 13 acres of it.
The brewery was founded a decade ago and in the usual way—with a taproom and production center in an old electrical supply company building in downtown Morganton, a town of about 18,000 between Hickory and Asheville. It rode the initial wave of North Carolina craft beer zeal and quickly discovered it couldn't brew enough farmhouse ales and barrel-aged fruited sours to quench consumers' thirst. So brothers David and Mark Bennett and brewer Todd Boera chose to move 18 miles west to an old dairy farm in the Nebo community, a property near Lake James called Whippoorwill Farm that Boera kept passing on his bicycle.
"It's an incredible piece of property. For the longest time, it was just vacant. And then, one day, there was a For Sale sign out front," Boera says in the taproom on a weekday morning in April. "This place is pretty unique. Nobody's going anywhere like this in Charlotte, so we use that as much as we can to get people to leave Charlotte, go on a day trip, come to Nebo, spend time out here on the trails, then come to this property."
Fonta Flora bought the land in 2016 and established its headquarters and 6,000-barrel-per-year production center at the farm two years later. The Morganton taproom remains, and the partners opened a 2,400-square-foot taproom with an expansive patio at Optimist Hall in Charlotte in early 2020.
Fonta Flora is not, strictly speaking, a Charlotte brewery. But its Queen City presence helps illustrate how North Carolina's oldest and most successful craft brewers are expanding to cities throughout the state, 12 years after the landmark state law that allowed breweries to sell beer on-site. Asheville-based Burial Beer Co., for example, opened a taproom in Plaza Midwood last year.
Nebo is closer to Asheville than Charlotte. But Boera says Charlotteans have been Fonta Flora patrons from the early days, and he's good friends with several Charlotte beer eminences, like Jason Glunt of Salud Beer Shop in NoDa. "We always felt like we had a connection with Charlotte," Boera says, "and we liked being a part of that Optimist Hall concept, with the historic reuse—the project was right up our alley."
Yet Fonta Flora has planted its heart in the country. Boera is originally from Cleveland but earned a degree in sustainable agriculture from Warren Wilson College in Swannanoa. (Warren Wilson is commonly referred to as a "hippie school," and the bespectacled and nose-ringed Boera, 39, looks the part; if he picked up a guitar and joined Phish onstage, no one would bat an eye.) He says the brewery aims for "a sense of place and agricultural purpose." The brewery has already converted the farm's milking parlor into a modest events space, and Boera and the full-time staff of 18 have an on-site garden where they grow pawpaw and other native fruits to use in beer.
"Folks can come here, order a pawpaw beer, and then wander down to the orchard and read about pawpaws, look at pawpaws, while they're drinking a beer," he says. "You know, that's just kind of something that sticks with people and is meaningful. You can't do that anywhere else."
For now, Fonta Flora stands as the most distant outpost of Charlotte's beer scene—Pluto in the #CLTbeer solar system—and perhaps a needed reminder that breweries, for all their urban hipster cachet, couldn't function without tilled soil.
"You have to have agriculture to have beer," Boera says, "but people don't see it that way anymore." His smartphone rings. He declines the call. "So it's like, for us, trying to just tie that in as much as we can."
---
The Back 40
The Burke County land that Fonta Flora eyed in 2016 consisted of 53 acres. "We did not need 53 acres," Boera says. The brewery worked out a deal with the Morganton-based conservation group Foothills Conservancy of North Carolina, which bought a little more than 40 acres and donated it to the N.C. Division of Parks and Recreation, which added the property to Lake James State Park. Fonta Flora bought 8 acres that year and added an adjoining 5 in 2019, and the brewery and conservancy maintain a partnership—brewery patrons can donate to Foothills when they pay their tabs.