Dr. Willie Griffin, the Levine Museum of the New South, and Charlotte's Distant Relationship With Its Own History
Why doesn't Charlotte celebrate its historic sites?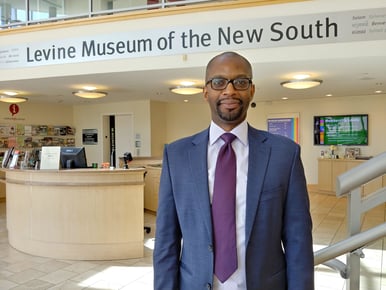 David Erdman, an attorney and local historian, told a story last week about Charlotte's uneasy relationship with its own history. He was on the stage at Midwood International & Cultural Center, housed in an old elementary school that opened in 1935. The occasion was the first town hall meeting for Larken Egleston, a first-term City Council member whose district includes Plaza Midwood; the topic of the day was historic preservation, and why Charlotte in general seems not to value it much.
Erdman used to chair the Mecklenburg County Democratic Party, and he told a crowd noshing on pulled pork sliders on a Saturday afternoon about the time he hosted Bob Kerrey, a former governor and U.S. Senator from Nebraska. Kerrey asked Erdman to take him to Charlotte's Old Town—you know, the downtown historic district, or whatever it's called here. Erdman sheepishly had to inform him that one of the leading lights of the New South didn't have an Old Town. Kerrey had a hard time believing it. Erdman, then and at the town hall, had a hard time explaining why.
It is a mystery, isn't it? Mecklenburg County has no shortage of historic sites—as of last month, 102 listings on the National Register of Historic Places. The list includes such gems as the Hezekiah Alexander House and Biddle Hall at Johnson C. Smith University, living artifacts that in other cities, even other Southern cities, probably would be celebrated as fervently as Faneuil Hall in Boston or the old Lorraine Motel in Memphis, the assassination site of Dr. Martin Luther King Jr. converted into the National Civil Rights Museum. For some reason or combination of them, Charlotte's history has always seemed to run a distant third to its present and future.
Here's how distant: Dr. Willie Griffin, the new staff historian at the Levine Museum of the New South, grew up in Lincoln Heights on Charlotte's west side and lived among authentic heroes of the Civil Rights Movement without knowing it.
Griffin mowed the lawn of Allegra Westbrooks, the first black public library supervisor in North Carolina. One of his neighbors was Bertha Maxwell-Roddey, who co-founded what became the Harvey B. Gantt Center for African-American Arts + Culture, founded Charlotte's Head Start program, and served as the first chair of the Afro-American and African Studies Department at UNC Charlotte. Griffin's grandfather, Fred Griffin, helped integrate Charlotte's white-dominated trucking industry in the early 1960s by insisting on working as a checker, a position inaccessible to black men at the time.
Willie Griffin had graduated from East Meck and Morehouse College but learned about his grandfather's story only as a graduate student in Baltimore, when he read about it in the Observer. "I never really had been able to place my grandfather in the larger narrative of the Civil Rights Movement," Griffin told Andy Smith in a recent episode of the #discussCLT podcast. "But seeing him among those other important individuals really hit me—that I had a lot of work to do to understand my own place in history, and my own responsibilities and legacy that were left for me. So it was at that point when I really jumped head-first into trying to understand about Charlotte's local history as I could."
Through teaching gigs at West Charlotte High, UNC Chapel Hill, and The Citadel—where he spent a year before taking the Levine Museum job—he began to work his own research into the lessons he imparted in his students. One of the key texts he mentioned to Smith during the podcast was Radio Free Dixie, Timothy Tyson's 2000 book about Robert Williams, the NAACP chapter president in Monroe who fled to Cuba and hosted a radio show on black politics and music that could be heard as far away as New York City.
"It just didn't make much sense that something like that was happening on the outskirts of Charlotte, and me, as a teenager and young adult, being led to believe … that Charlotte didn't really have a Civil Rights Movement that was noteworthy," Griffin said. "It wasn't part of the larger national narrative."
That narrative often, maybe necessarily, hangs on physical places such as the Lorraine Motel or the Edmund Pettus Bridge in Selma, Alabama. "These places represent events," Griffin said. If the places aren't preserved, and the history highlighted, their importance tends to fade from memory—an observation with special relevance in Charlotte, a city where it can be hard to recall what occupied a lot under excavation last month. "If you don't see reflections of yourself, if you don't really care about the community, you'll tear it down," he said. "It's not that important to you."
You can't help but see the Keith Scott demonstrations in September 2016 under this light, and the sense that Charlotte's compulsion to rip itself down and start afresh every few years leads to a repetition of the same old mistakes. Not enough people are around to remember them, or to recall why they were mistakes. Just Tuesday, news broke that the owner of the 74-year-old Excelsior Club on Beatties Ford Road, not far from where Griffin grew up—a place where Nat King Cole and Louis Armstrong performed, a cultural landmark on the west side—had filed paperwork with the Historic Landmarks Commission that would clear the way for the old building's destruction.