Drinks with … Brent Baronofsky
Owner of Brent Baronofsky Design and the decorating brains behind Queen City hot spots Cowfish Sushi and Burger Bar, Customshop, Terrace Café, and Good Food on Montford sits down for a glass of wine and shares.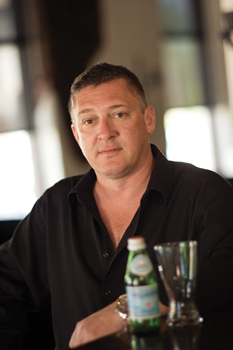 Strongest Emotional Connection with a Q.C. Restaurant: All of them, but Customshop and Good Food, especially. Their designs support their food, which should be the true star.
Dish to Order from Places You've Designed: I love to ask the chefs to create something on the fly—and I've never been disappointed.
Designer Icon: I try not to look at anyone else's work so that my own isn't colored by what's "hot" or "trendy."
Favorite Design Show: American Pickers.
Biggest Design No-No: TVs!
Design Must-Do: Translate the client's vision.
Best Place to go to Design on a Budget: Cline's Antiques in Mt. Pleasant.
IKEA or Target: IKEA, but I prefer World Market to them both.
Next Big Project: Overhauling Park Lanes Bowling Alley.