Drinks with Darrin Pikarsky
Founder of the Charlotte Beer Club and Charlotte Craft Beer Week and co-creator of the NC Brewers and Music Festival opens up over—you'll never guess—a beer.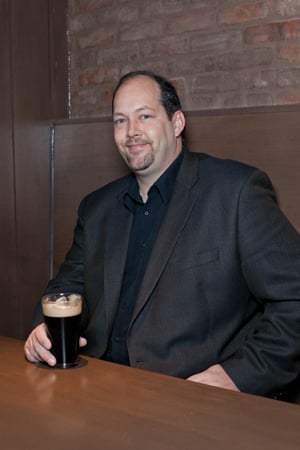 Brew you're feeling this month? Bell's Oberon: It's like spring cleaning for your palate.
Go-to club meeting spots? Common Market and local breweries, such as NoDa Brewery and Old Mecklenburg.
On founding the largest craft beer group in the world? I never could have imagined this kind of success. Our initial goal was fifty-one members, and now we have 1400.
What are you most excited about for Craft Beer Week? New people coming out that may have never experienced a craft beer week anywhere. We're going to have great beer and great fun with great people from all over the country.
How hoppy do you go? One word: Hopslam (a cult favorite from Bell's)
Nothing goes better with a beer than…? A good cigar.
Favorite brewery? Internationally: Brauerei Schloss Eggenberg in Austria. Nationally: Ommegang in New York. Locally: Foothills in Winston-Salem (for its longevity).
Would we ever find you mixing up a martini? Hell no!

Charlotte Craft Beer Week is March 16–25. Details at charlottecraftbeerweek.org