Drunk, High, and Unemployed
A show for our sucky times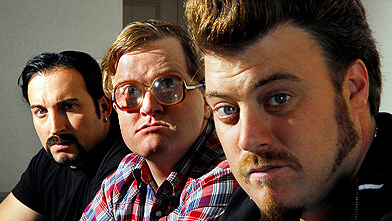 Recognize anyone you know in that description?
Leave it to the Canadians to describe the American zeitgeist. I suppose it's, sadly, the worldwide zeitgeist these days.
The Trailer Park Boys could easily be a band of redneck brothers from right here in North Carolina. But, these guys are our neighbors to the north (Canada, not Virginia) and created and starred in a beloved TV show (2001-07) in their native land.
The show followed Ricky, Julian, and Bubbles as they tried to figure out new ways to get rich, get high, and stay out of jail. Their money-making schemes were usually foiled by the vindictive trailer park supervisor.
Ricky, Julian, and Bubbles have hit the road (without their parole officer, according to the press release) and make a stop in Charlotte on Oct 15. Details.