Duke Mansion Celebrates 100 Years
RSVP now to reserve your spot for the free art show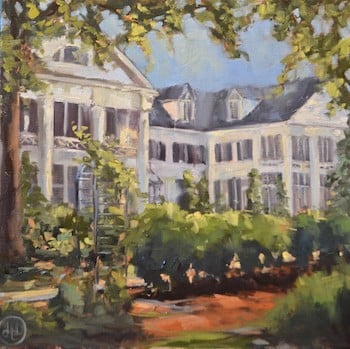 In the latest issue of Charlotte Home + Garden, we spoke with Cyndee Patterson, president of The Duke Mansion, about the property's prominence and its upcoming 100th birthday.
Several celebrations are scheduled for this month. The three days of scheduled tours (Aug. 28-30) are sold out. But the mansion has added a free art show and reception on Sunday, August 30, from 6:30 p.m. to 8:30 p.m.
Twelve local artists will display and sell their paintings. Several of the artists represented have donated work in the past for the mansion's annual auction. Ten percent of each sale will go toward the mansion, which is a nonprofit listed on the National Register of Historic Places.
Each artist will show at least one painting that depicts the mansion. Artists include Allison Chambers, Fonda Doerre, Jenny Fuller, Paul Hastings, Dottie Leatherwood, Janine Medlin, Windy O'Connor, Liz Orvos, Patti Ratcliffe, Adrian Chu Redmond, Libby Smart, and Amy Sullivan.
Attendees must RSVP by clicking here or by calling 704-714-4445. The Duke Mansion is located at 400 Hermitage Road in Myers Park.