Dumpling Food Truck Launching Next Week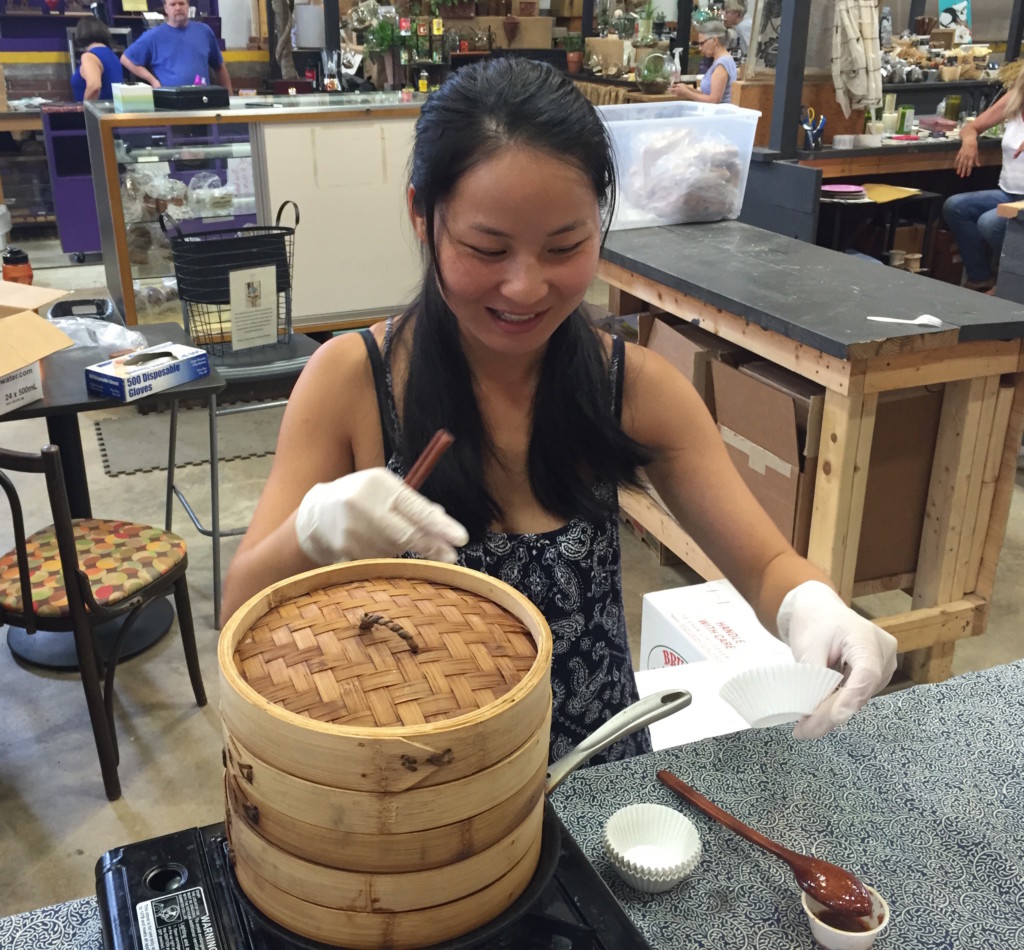 Correction: An earlier version of this story stated that the food truck would debut this Saturday. They will be selling frozen items from the truck this Saturday because another truck will be present. The truck will appear at Birdsong Brewing on August 19 and begin serving cooked dishes at Atherton Market on August 20.
Zhang Qian came to America from China just a little over a year ago. She was born in Neijiang, a place called the "city of sweetness" for its for sugar cane. It is also known for its eponymous beef noodles, which Zhang says are "the best kind of noodles you will find in my province." The Neijiang beef noodles will be just one of the dishes she'll sell from her new food truck, which makes its debut next weekend.
Zhang makes her fillings using ingredients she finds at Atherton and at her other location, the NoDa Farmers Market. She buys produce from Street Fare Farm, fish from Lucky Fish, and meat from Mary L. Farm. She doesn't make the wrappers for her regular dumplings, but she does make gluten-free wrappers from scratch.
"I miss home a lot, and food is the way that brings me back home." she says. "I love to cook and tell people about my hometown and history behind it."
Zhang recently left her teaching job to focus solely on her business, which has grown enough in less than a year to deserve a shot on Charlotte's food truck scene. Her truck, which will also be called The Dumpling Lady, will serve a rotating variety of dumplings and noodles dishes: wontons, steam buns, ramen noodles, and those Neijiang beef noodles.
One of her other specialties will be large soup dumplings, served with a straw for sipping on the rich broth tucked inside the wrapper. Another will be a dish called burning noodles, which originated in a small city in the Sichuan province called Yibin. "People call it burning noodles because the noodles themselves are coated with sesame oil and it feels like you can almost light the noodles on fire because they are so shiny," she explains. The use of Sichuan peppercorns brings a special kind of heat to this dish, one that will literally make your tongue tingle.
"They are fantastic seasoning," says Zhang. "I love it."
Zhang's voice is soft. Even so, it's hard to miss the enthusiasm she has for sharing her life back in China with people in this community. "I really like Charlotte….People say hello and smile at each other all the time. We don't do that in China. But it feels so good."
The Dumpling Lady food truck will be in NoDa on weekdays, at Atherton Market on Saturday mornings starting Aug 13, and behind the Company Store in NoDa on Saturday afternoons. They will also continue to sell vegan dumplings at the NoDa Farmers Market on Saturday mornings. You can also find the truck at Birdsong Brewing on August 19.