'Dusk Till Dawn' E-Newsletter Launches
Your social life now begins weekly in your inbox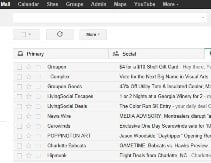 Each week as I'm compiling the weekend list of social events and parties for this
Dusk Till Dawn blog
, I'm impressed by just how vibrant the scene in Charlotte has become. If you've noticed, the weekend lists I post—featuring events taking place from Thursday to Sunday—have been getting longer. That's because there are more venues—bars, lounges, nightclubs, etc.—than ever in Charlotte, which means there are more good choices.
My goal each week is to pull from the dozens of emails and social media event invites I receive to put together what I'm confident in saying is the best-curated social events list you'll find anywhere around Charlotte. Many of you visit Dusk Till Dawn regularly—thank you—and several of you have emailed me or come up to me at events to say that you find the blog very helpful in doing exactly what we set out for it to do when we launched it in December 2010: "help you navigate Charlotte's nightlife and social scene, telling you where to go and when to go there."
Now you can get the events list emailed to you each week via the new Dusk Till Dawn e-newsletter Charlotte magazine launched yesterday. If you were already a subscriber to the magazine's other newsletters, like The Buzz, then you should've received the first DTD newsletter. If you didn't get it, but would like to, simply look in the top-right corner of this blog and you'll see the "Dusk Till Dawn Newsletter Sign Up" box. All you have to do is enter your email address.

The inaugural Dusk Till Dawn newsletter was emailed to subscribers on October 24.
The newsletter will be delivered to your email inbox each Thursday, filled with excerpts from the weekend events list, along with the occasional reviews and sneak peeks I write about new bars and nightclubs, and other related content you should know about so you can have an active social life.
Tell your friends to tell their friends to sign up for the newsletter. And make sure they know what you know—that Dusk Till Dawn has something for everybody. Seriously. Whether you're looking to network or mix and mingle at an event after work on a Thursday or Friday evening (many of the events I list start at 6 p.m.), or you want to go to a late-night party, I guarantee you'll find something that interests you. The lists also frequently feature fundraising socials and black-tie galas, in addition to bar crawls and parties where celebrities and high-profile DJs are scheduled to appear.
Carpe diem! (And whatever is Latin for night!)
Follow me on Twitter @HollidayInk; email me at jarvish@grownpeopletalking.com.