Earl's Grocery Finally Opens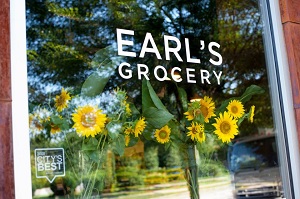 As of Monday, Earl's Grocery was open on Elizabeth Avenue in Charlotte. The long awaited purveyor, which was originally slated to open on July 21, had been delayed due to a cooler malfunction which just so happened to freeze hundreds of dollars worth of beer, wine, champagne, and soda.
From the same team that brought Carpe Diem into being, Earl's Grocery will offer everything from a pickle bar, to a coffee bar, to dine-in eating, take out, fro-yo, and more. The store will also carry more specialty products, like artisan chocolates, lentil crackers, goat milk caramels, and lots, lots more.
According to the Charlotte Observer, Earl's also plans to carry condiments, sauces, pastas and other foodstuffs minus hydrogenated oils or high fructose corn syrup. There has been a special focus on finding yummy natural vegan and raw foods as well.
Th eatery/store will be open from 10 am to 7:30 pm Monday through Friday and 8:30 am to 6 pm on Saturdays. Check out a full list of what to expect from Earl's via The Observer.