Earth Day Happenings
Several events honor sustainability efforts and encourage others to get involved on Wednesday, April 22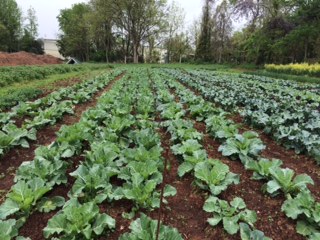 Earth Day is only two days away. Make plans to celebrate by participating in an area event on April 22.
The nonprofit Sustain Charlotte will hold the 2015 Sustain Charlotte Awards on Wednesday evening from 5:30 to 8:30. (Purchase tickets here.) The event highlights individuals, businesses, and organizations in our community who are making a difference in sustainability in the areas of economics, transportation, water, food, energy, waste reduction, land use, and social equity. The nominee list contains 100 names, and winners will be announced at the event.
Renfrow Farms, an extension of local institution Renfrow Hardware, in downtown Matthews continues its gardening classes this Wednesday (and Tuesday). This month's installment is The Family Food Garden: More Fresh Food from the Home Landscape. The Tuesday class is from 6:30 p.m. to 8:30 p.m., and the Wednesday class is 10 a.m. to noon. Jeff Rieves, former NC Cooperative Extension agent, teaches the classes. For pricing and registration instructions, click here. Children younger than 16 can attend for free with a family member.
Discovery Place KIDS in Huntersville will play host to a Planting on Earth Day event. The event is intended for children. It starts with story time at 10:45 a.m. and continues with the planting of vegetables and flowers in the Learning Garden. Earth Day activities are included with the price of admission. Click here for a link to the website.
At noon on Wednesday, the city of Concord will announce its Community Wildlife Habitat Certification through the National Wildlife Federation. The city has been working toward the certification since 2013. The announcement will be held in downtown Concord at J.W. McGee Park. If you plan to attend the announcement, check out what else you can do while you're in town in this story on Concord from Charlotte Magazine's "Around Towns" series.