Easter Brunches in Charlotte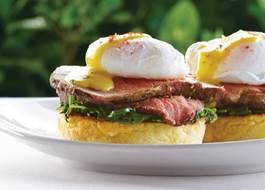 For me, Easter brings to mind the Sunday gathering at my grandparents' house after church; the table filled with Eastern European treats like kielbasa, bopka, ham, hard boiled egg and potato casserole, herring in sour cream (I know), grandma's homemade cheese (it was awful, sorry Grams), good rye bread (from the Polish bakery), fresh-made-from-the-garden horseradish, and some form of cabbage or sauerkraut.
Being far from all that, however, opens up the possibility for new options this April 20. I've compiled a list of some of the restaurants hosting Easter brunches this year. They're likely to fill quickly, so make your reservations!
There are tons of other restaurants open for their normal brunch hours Sunday, so be sure to dig around OpenTable and find your match.