Easy and Cheap Bathroom Updates
A whole new space with so little effort.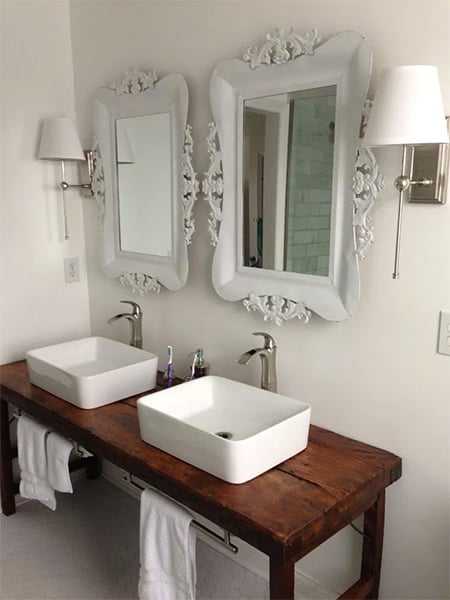 Whether you've been in your home for 20 years or you just bought your abode last month, we all come to a moment when we're looking for a little refresh. Sometimes your design taste changes, and sometimes you're a serial redecorator. No matter which camp you fall into, there's no shame in wanting to update your spaces.
3 Easy and Cheap Bathroom Updates You Can Do Yourself
Today, we're talking specifically about the bathroom. The bathroom is seldom the star of the home, but that doesn't mean it has to get left out when you're purchasing new home accessories. To make this oft-forgotten spot feel brand-new, there are plenty of little updates you can make without a big fuss. No need to pull out the reserve credit card for these changes, either, because they're actually affordable.
1. New Accent Features
If you had to choose just one feature to replace, go for the mirror. Mirrors are usually the focal point of the bathroom, so when you're craving change, it's a smart switch to make. Consider picking one in an unexpected shape or color to really shake things up. Other accent features you can replace for a more modernized look are the towel bars, shelving, and even a new toilet seat.
2. Refinish Cabinets
There's no need to purchase new cabinets if your current ones aren't awful and get the job done. Instead of going crazy at the home improvement store, just pick up another stain or paint color to transform the style. And if your cabinets have already been previously stained, just sand the old stain off before you apply the new one. As for an updated paint coat: Sand off the gloss, prime the surface, paint it, then finish with a topcoat.
3. The Little Things
So you want to do as little physical work as possible? No problem—this tip is for you. Just head to your favorite home goods store and grab a cart. Pick out a dramatically different shower curtain (if applicable), hand towels, and maybe even some new artwork to complete the updated theme. Sometimes the little things can make the biggest difference.