Easy Breezy: Sarah Brigham's Style
Sycamore Brewing's co-owner has a laid-back Bermuda vibe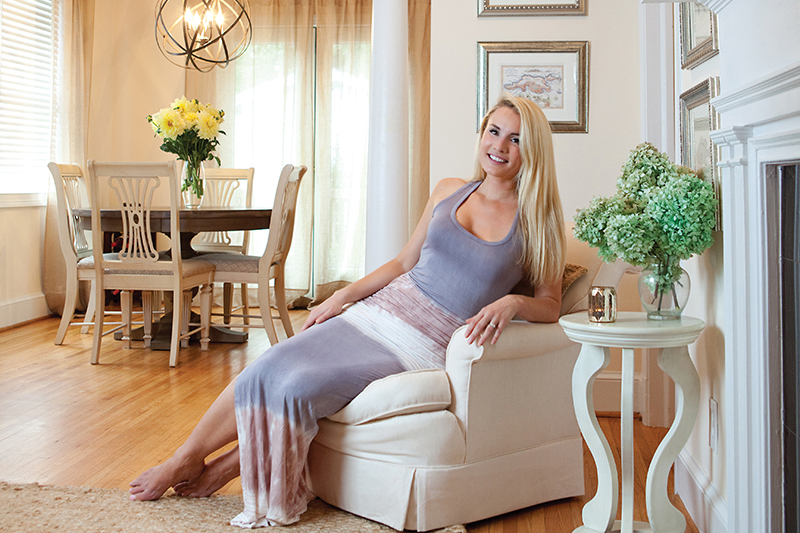 WHEN THEY were children, Sarah Brigham and her future husband spent summers on the same small island, but they didn't meet until they were adults. They connected over water sports. "I managed to score a fantastic job as a Jet Ski tour guide," says the 31-year-old Bermuda native.
As a rising college senior, she enjoyed showing visitors the pinksand beaches and grand resorts of the island. One day at the dock, she met Justin Brigham, a crew member on a catamaran. He grew up in Union County and went to Charlotte Latin, but had been spending summers in Bermuda since childhood. His retired grandparents lived there.
He and Sarah married on the island three years later, in 2008, and moved to Charlotte. Sarah didn't find the cultural climate too different here. Maybe the biggest difference was that men wore slacks with their suit jackets in Charlotte, while back home, they dressed in Bermuda shorts with jackets and ties. "In Charlotte you have the banking industry, and then in Bermuda, you have the insurance and reinsurance industry. So there are a lot of parallels. They're both really sophisticated places—a lot of highly educated people, great food scene in both places," she says.
Barefoot and wearing no jewelry, she's statuesque in a dress by Young Fabulous & Broke. She and Justin put down roots last year when they opened Sycamore Brewing in a renovated warehouse in South End. On October 24, they'll celebrate the brewery's first anniversary.
---
VINTAGE // Occupational therapist Julia Teague opened an Etsy shop four years ago to sell her jewelry creations. The necklaces Brigham chose have pendants made from an agate crystal and a sterling Turkish cross. Teague's jewelry is also available at The Boulevard at South End.
---
LEATHER CLUTCH // Brigham likes simple accessories and says the pop-up markets organized by Vintage Charlotte are great for unique finds. She bought this vegetable-tanned leather clutch, made by Ethan Martin of Anchor Leather Company, at the July market.
---
LINUS BIKE // Linus has gained a stylish following since the company's launch in 2010. The simple design makes it easy to master, and Sarah likes riding it to work, less than two miles from her home. A gift from Justin, this Scout 7 is from The Spoke Easy, a bike shop in Elizabeth.
---
SCULPTURE // Michael Brigham, Sarah's father-in-law, carved this sculpture from fallen Bermuda cedar; a hand in the center holds a net full of monkfish. An accomplished craftsman, he's built picnic tables for Sycamore's beer garden and made all of the tap handles at the bar.
---
MUGS // Known for her dreamy watercolors, artist Carole Holding also owns a bed and breakfast at Hamilton Harbor in Bermuda. The Brighams stayed there for their honeymoon and brought back these mugs. The moon gate, popular in gardens across the island, is believed to bring good luck to lovers.
---
This article appears in the October 2015 issue of Charlotte Magazine
Did you like what you read here? Subscribe to Charlotte Magazine »
---