Editor's Note (Dec. 2018): Stress Dreams and Gift Giving
Ten individuals who gave love to the city this year, and me, who gave shorts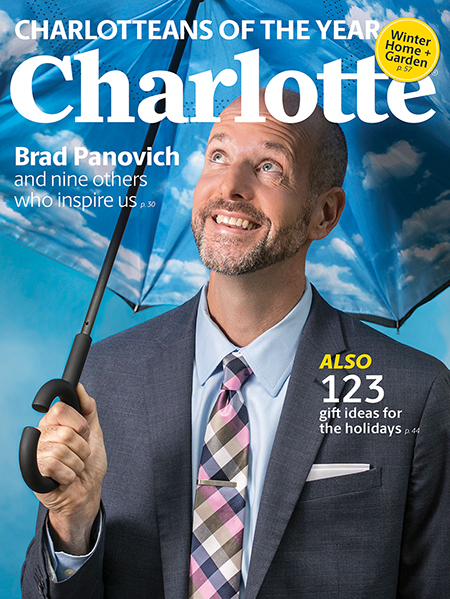 I have one vivid, recurring nightmare. It's the night before Christmas, and I've completely forgotten about the holiday. I haven't gotten gifts for anyone; I haven't spent hours making sure the bows are tied symmetrically. Cookie dough is still just a bag of flour, uncracked eggs, and a container of sugar. I'm stuck in Charlotte eight hours away from home in Delaware.
I panic and drive to the mall to grab last-minute gifts, but the stalls are all shuttered. CVS for gift cards? Closed. I think I could re-gift something from home, but my closet is suddenly empty.
This is all fictional, of course. In reality, I start shopping for Christmas on Dec. 26 of the previous year, and by July I already have a detailed spreadsheet of gift ideas. I've been told I'm like Leslie Knope of Parks & Recreation. That's how seriously I take gift giving—just in case my stress dreams don't reflect that enough.
In August, my boyfriend and I were shopping in Buffalo Exchange, and he found this tribal-printed, short-sleeved button-down shirt. The bright yellow, teal, and red were loud and colorful, and looked nothing like anything else in his closet. I remember telling him, "You have to try it on."
Before we got to the dressing room, though, we noticed another pop of color, this time on the shorts rack—a matching pair of shorts.
The patterned get-up was like a romper two-piece. It was ridiculous, in the best way. But my practical, budget-conscious boyfriend decided to opt for just the shirt. I disagreed. The set couldn't be split up, the tragedy! So I sneaked back and bought the shorts, and as I'm writing this, they're still hidden in my closet waiting for the holidays. (If you're reading this, Steven, sorry for ruining the surprise.)
Finding a gift for someone that they didn't know they wanted, but that they'll love is one of my greatest joys. Our holiday wish list gets at that idea.
Charlotte magazine tries to get at that idea in each issue, too. What's something you didn't know about Charlotte, and now that you do, it makes you love the city even more for it? Or maybe one of these articles pushes you to see this city in a new way.
Each of our Charlotteans of the Year has a love for the city and the people in it, but they're also pushing our communities to think harder and act consistently. Alvin C. Jacobs, Jr. and David Butler created Welcome to Brookhill, a photography exhibit at the Harvey Gantt Center that examines the neighborhood and forces Charlotte to take a closer look at the consequences of gentrification.
Brad Panovich, the WCNC meteorologist, uses science and Facebook Live to help us see the weather in a new way—and the city loves him for it.
ourBRIDGE's executive director, Sil Ganzó reminds us that Charlotte still has a long way to go until refugees and immigrants can feel welcome. And David Tepper, the Panther's new owner, proves that even the new guy in town can make a positive impact on team spirit.
All ten of this year's class of Char­lotteans of the Year have given their heart to this city, and to the causes they represent. Now that is the best gift we could ask for.