Editor's Note (February 2017): What Mr. Crowe Knew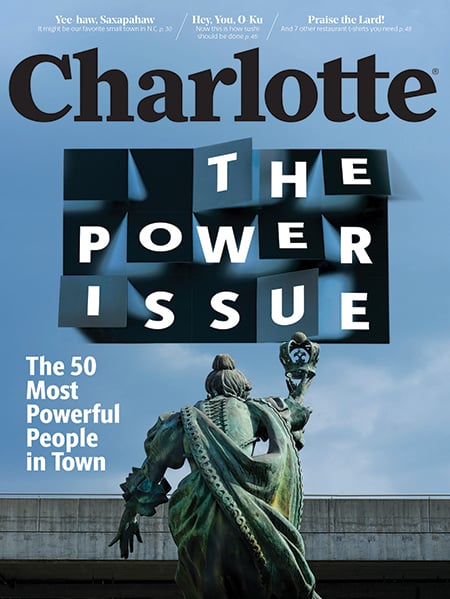 HE WAS 5-FOOT-5 and wore giant rings on eight fingers, championship rings with blue stones in the middle. His hands sounded like wind chimes when he passed out stat sheets during the big tournament in the big arena each February. He wasn't an athlete or a coach, just an underpaid sports information director with a round face and glasses. But he was one of the most popular people at the CIAA basketball tournament each year, a grandfather figure to some, a mentor to others, a character to everybody.
His first name was Marion and his school was Fayetteville State, but everybody called him Mr. Crowe and his love was the CIAA. I can still hear his voice. It was scratchy and excitable, almost like a dirt bike, perfect for delivering punch lines.
He'd tell stories as long as you'd listen, and he always had people listening.
I remember one story he liked to share, from his first year in the Army, when he got into a bar fight with a man twice his size. The man whipped his butt—"bounced me off four walls and the ceiling," Mr. Crowe told me one afternoon a decade ago. I was a sports writer with the Fayetteville Observer then, assigned to cover Fayetteville State. I'd sit in his office in the evenings and just let him speak. So what did young Private Crowe do to get the man to stop pummeling him? He made a joke: "Somebody get this man off of me before I hurt him!" Even his opponent laughed.
Mr. Crowe spent 24 years in the 82nd Airborne Division, then retired from the service and enrolled at Fayetteville State. During his senior year, his daughter was crowned Miss Fayetteville State. They graduated together in 1984. He was 51.
In 1993, he was working for the local parks and recreation department when Fayetteville State's athletic director, an old friend, called and asked Mr. Crowe if he could help out in the sports information department, just part-time, until the school could find a full-time director. "That was January '93," Mr. Crowe told me in 2006. "Thirteen years later, I'm still part-time, waiting for them to bring in somebody."
He wasn't flawless in his work. Sometimes at a football game, a five-yard run would go down as a two-yard run. And in basketball, he'd get so excited when the Broncos went on a scoring spree, he'd forget to note who made the buckets. But we all loved him, reporters and players, cheerleaders and parents, league commissioners and alumni.
Mr. Marion Crowe was 80 when he died last year, but memories of him will live on when the CIAA tournament returns to Charlotte this month. If you live in this city and think the CIAA is all about late-night parties and rappers and twenty-somethings, it's not. It's about people like Mr. Crowe and thousands of others from his generation. The league was formed when black athletes couldn't play at schools like UNC or Duke. Since then, its basketball tournament has developed into a yearly reunion for some of the most influential people in the country, black and white. In my years covering the league, I met school superintendents, lawyers, mortgage brokers. I met Earl "The Pearl" Monroe, folks.
In our power list this month, we give due attention to young people who will guide the city's future. Hell, we rank millennials, as a group, No. 2. But when you read stories such as Ron Green Jr.'s interview with 69-year-old Quail Hollow Club President Johnny Harris—Mr. Harris to people who work for him, "Big Podna" to his friends—it's obvious we still have a lot to learn from Baby Boomers and their elders. Harris's wit and personality shine in each answer, and the phrases he uses are distinct, as if only he could say them. Anyone who knows him would be able to identify his words without the aid of a picture or headline.
We'd be wise to remember today that popularity isn't necessarily power, power isn't necessarily leadership, and what we learn from a Google search isn't necessarily knowledge. People like Mr. Harris and, when he was alive, Mr. Crowe, are different kinds of leaders with different-sized bank accounts, but they both are teachers, and they share a similar power—they're comfortable with themselves.
Which makes one wonder, as we go through a list like the one in the pages that follow: Is it power we truly desire, or something more like freedom? Freedom to be yourself, freedom to make a decision and have someone disagree with it but respect it, freedom to mistake a five-yard run for a two-yard run, freedom to stand up to a man twice your size in a bar and challenge him to a fight, knowing you'll be able to beat him back with your brain? That's power.