Editor's Note (July 2016): Good Morning, Sunshine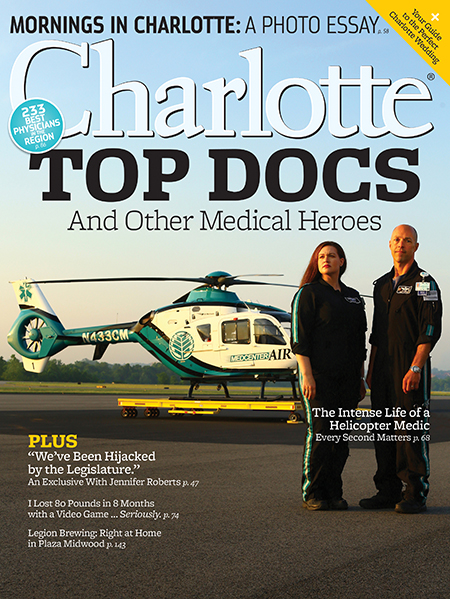 HIS VOICE hits you first, bending around the big basketball arena where people celebrate winners and curse losers.
"Good morning! Good morning!"
He says it twice, in rapid-fire, over the jackhammers. Once would demand a response from the people passing by. Twice is an invitation.
His audience consists of successful businesspeople and those who hope to be, busy folks in button-down shirts, slacks or skirts, a few sport coats and briefcases. The first-timers, travelers mostly, are shocked by the crazy man who dares to break their stride. Others came through just yesterday, and after the initial jolt this morning, they remember the gift he delivered them 24 hours ago. The regulars wear a soft smile before they even see him.
"What's happening, guy?" he tells one. "Everything good? Good, good. Hey did you work out this morning? Did you work out this morning?"
Officially, he is a construction worker. Dirty jeans, boots, neon vest. His white hard hat is stained and dusty and scratched up. He points to the front of it when you ask his name: "Tony Rice," he says. "Right there. Right there."
He's part of the Rodgers Builders team that's hustling to finish the new SpringHill Suites hotel across from Time Warner Cable Arena in time for next February's NBA All-Star Game festivities. There aren't many construction workers who could also take a job inside the building they're creating, but it occurs to you that Rice would make a great concierge.
His job is to direct and track the 18-wheelers bringing supplies to the site—two-by-fours and pipes and such. His clipboard lists the trucks and scheduled arrival times. He tells the drivers where to park and chats them up while the crew unloads. When there's a lull, he turns around to the sidewalk on 5th Street.
"Good morning! Good morning!"
The front of the arena, believe it or not, provides one of the best views of sunrise in the city, thanks to the flat parking lots laid out to the east. (You can see how morning light hits other parts of the city in Logan Cyrus's quiet photo essay, "Mornings in Charlotte.") From this spot, at that time of day, the sun's rays seem to shoot at the arena horizontally. You can feel their power, almost as if they're trying to pin you to the wall.
A few people on this planet have a similar ability to transfer energy. Rice is a solidly built man with a steady mustache and sprouts of day-old scruff along his jaw line. With the corners of his eyes hidden behind dark sunglasses, he looks young for a man in his 60s. He's never fully at rest. He kicks his boots when he talks, keeping his legs loose. He gives some passersby a fist bump, others a handshake. Some just get a finger point and smile. He can read people better than they can read themselves. That some of them think he's crazy tells him more about them than anything. When did it become crazy to be happy?
"Even the most down-and-out person, walking to work like this," he says, crossing his arms and sticking out his bottom lip, "I say good morning to 'em. By the time they leave me, they'll be smiling."
But why?
Why, in a stream of people with their eyes fixed on the ground or their cell phones, people who might make twice your salary without lifting a hammer, would you spend your mornings trying to turn their steel faces into flesh again?
What most of them don't know is that Tony Rice has been a construction worker for more than 30 years. And before that, he spent 13 years as a soldier in the United States Army. He calls himself a "Vietnam-era veteran," but is quick to clarify that he was never sent to Vietnam. Before the service, he was in high school at West Mecklenburg High, where he graduated in 1973, a black student in the era of integration.
It's hard to know what scars he hides under that scratched-up hard hat. But if you want to know why Tony Rice stands here every day and gives away smiles, it's simple.
"Hey, it's free, right? 'Good morning' doesn't cost anything."
---
This article appears in the July 2016 issue of Charlotte Magazine
Did you like what you read here? Subscribe to Charlotte Magazine »
---