Editor's Note (July 2017): One Lesson From Atlanta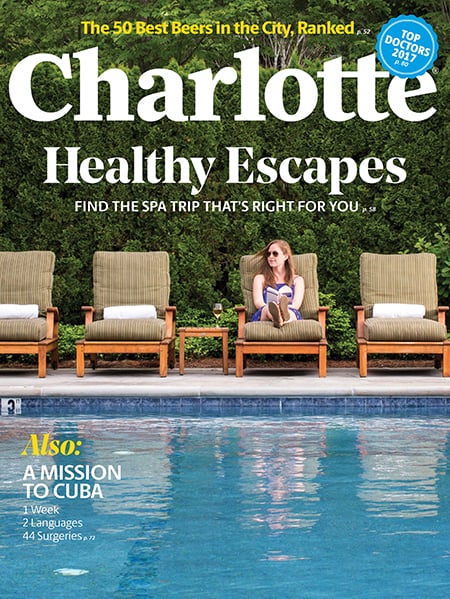 WE HAD A PLATE of deviled eggs on the table when Ron Stodghill told me the theory that led to his column on this month's back page. Charlotte, he said, was once an escape for him. He lived here in the late 1980s, moved to New York in the 1990s, then came back in the 2000s to raise his children. Since then, he says, the city has become busier and feels more like the urgent, high-pressure environment he left in the north. I let him go on about this for 15 minutes or so during our lunch on the patio at Fran's Filling Station. He drifted from subject to subject to support his conclusion: traffic, constant political controversies, last year's protests, and anecdotal evidence that more people used to say hello when they passed you on the streets.
He was basically saying that Charlotte's lost its small-town feel.
Just then, hand to the heavens, Panthers owner Jerry Richardson walked past our table.
"Well," Ron said, "maybe it's still small after all."
This was a Monday. I'd spent Saturday and Sunday in Atlanta, the Mistake of the South. In the 24 hours I was there, I sat in traffic for 48 hours. During my time not going anywhere, I noticed a few things about the place. For instance, in a city where driving is nearly impossible, Atlanta people sure spend a lot of money on cars. Porsche after Porsche inched forward with me, stoplight to stoplight. Also, the city has some taco places. I went to three in 24 hours.
I will say, though, Atlanta has quite a few parks to provide at least some balance to all those puttering Porsches. Atlanta's never been known for its planning, but lately the city has aggressively purchased property to turn into public spaces. The effort is in part a response to Atlanta's poor ranking on ParkScore, produced every year by the Trust for Public Land. The ranking is based on a few statistics: the percentage of residents who live within 10-minute walk of a park, the percentage of total land dedicated to parks, and spending on parks, among other things. In 2015, Atlanta voters passed a referendum to spend $250 million on infrastructure projects, including parks. The vote wasn't even close—88 percent in favor.
Why should we in Charlotte take note? Atlanta is 50th among U.S. cities in the 2017 ParkScore ranking, released in May. Charlotte is 96th. Only Fort Wayne, Indiana, and Indianapolis rank worse. Meanwhile, the Mistake of the South is way ahead of us, and now there's a full-on movement there to get better.
Which brings me back to Ron: He's wrong and he's right. Charlotte isn't too big yet, but it's getting there. There's still land to preserve before we have to rescue it. We're still nimble and can learn from what others did wrong.
In the past three weeks, I've visited not just Atlanta but also Pittsburgh, Baltimore, and Houston. They're all rebounding from some failure. Pittsburgh lost its mills. Baltimore has a well-documented history of segregation and violent crime. And Houston has the same issues with sprawl Atlanta has. But now, all three cities are in the midst of revivals: Houston residents boast that it's the most diverse city in America, Baltimore is a deeply prideful place with surprising restaurant and arts scenes, and Pittsburgh is a stunning city with an energetic tech industry and hilltops from which you can see the skyline.
Charlotte doesn't have nearly the baggage of these other places. But as Ron writes in his column, the bigger we get, the more weight we carry.
As I looked out the window on the way into our airport after the Houston trip this week, it occurred to me that no matter where I've been or how much fun I've had while I was away, I always feel happy and at peace when I descend into Charlotte. I hope that never changes.