Editor's Note (November 2018): Party of One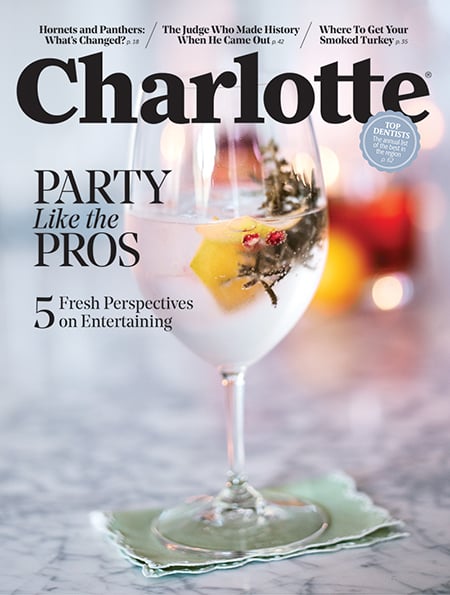 ON MOST SUMMER DAYS at my neighborhood pool, there's a never-ending loop of bass playing from a small portable speaker. It's music made for glow sticks and kegstand handstands as a horde of spring breakers cheer. At this small pool in Plaza Midwood though, the club soundtrack often jolts me awake from naps or forces me to dog-ear whatever I'm too distracted to read.
Let's call the man with the bluetooth speakers Miami Dan—a name that applies both to the type of music he plays and also to his appearance; his skin is a deep bronze like he's spent a full year tanning in South Beach.
He's a fixture at the pool, so much so that when he's not there, it's eerily quiet. Without Miami Dan, I miss his incessant beats, which had become the soundtrack of my summer.
I give props to Dan. He forced his way into my eardrums and became the most loved person at the pool—the life of the party.
This issue's cover story (page 48) is all about the art of the party—finding that balance between décor, theme, vibe, and food. Our entertaining experts, led by stylist Scott Newkirk, took Truman Capote's black-and-white masquerade ball of 1966, an evening with over 500 guests (many of them celebrities), as inspiration and turned it into an intimate cocktail party.
The evening brought guests back a few decades to a time before smartphones and television. They fed each other hors d'oeuvres made by Sarah Wrenn of Copain Gathers and Noble Food and Pursuits. Guests paraded up and down the hall of a gorgeous mid-century modern house in NoDa with masks concealing their identities. They danced on the table—yes, really—to the sounds of Stevie Wonder and Astrud Gilberto.
There's something about a mask that allows people to fully be themselves. Just like there's power in knowing no one, but being the de facto DJ of pool-goers' summer. You don't really care what people think, and in turn, everyone loves you more for it.
November marks the beginning of holiday parties, and it can be stressful to entertain for family and friends. Everyone expects a cheese plate and a few bottles of chardonnay; so, instead, do something unexpected, something wholly you.
You don't need to invite 500 acquaintances or spend hours decorating for a party to be successful; all you need are individuals—close friends, rather—who will dance on tables to a club beat they've never heard. That's what gives a party life.