Eight DJs to Compete at Phoenix, DJ Questlove Headlines at RE:PUBLIC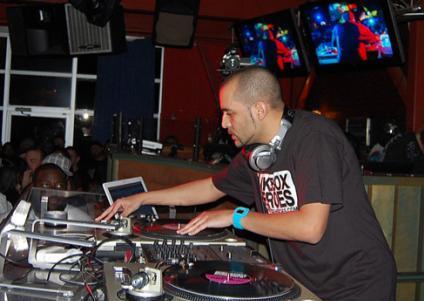 District 300, the name given to the newly rebranded block of College Street between Sixth and Seventh streets, is going to be rocking this week, thanks to the guys on the ones and twos. DJs are the main attraction at Phoenix on Thursday and at RE:PUBLIC on Saturday.
Red Bull Thre3Style
Thursday, July 14
Red Bull takes this annual DJ competition worldwide and on this night it stops in Charlotte. Eight of the area's best DJs will battle it out, each given fifteen minutes to mix three different genres of music and win over the judges and the crowd. They're judged on song selections, creativity, skill, swagger, and audience reaction. After the competition, the renowned Z-Trip will perform a set for the crowd. The competing DJs are: DJ Complete, DJ Forge (2010 Charlotte winner), Marley Carroll, DJ Soden, DJ AHuf, DJ Scooby, DJ Red, and SPCLGST. The winner of this event will advance to the national finals held in Las Vegas later this year; the national winner will then compete in Vancouver, British Columbia for the Red Bull Thre3Style International Final. Doors open at 8 p.m.; show starts at 9 p.m. $5-$10. Ages eighteen and older admitted. Phoenix, 300 N. College St. phoenixofcharlotte.com, redbullusa.com/thre3style.
DJ Questlove
Saturday, July 16
He's most known as the drummer for The Roots, the legendary hip-hop band that can be seen nightly on NBC as the in-house band for Late Night with Jimmy Fallon. But Questlove is also a producer, musical genius, and phenomenal DJ. He takes over the turntables for the night, and it'll be interesting to see which songs he selects. And if you need any further validation of Questlove's impact on the culture—he designs a line of sneakers for Nike. This event is being brought to you by RE:PUBLIC, Signature, The Sol Kitchen, and Roundtable Ent. 10 p.m.-2 a.m. $15 in advance. RE:PUBLIC, 314 N. College St. republicofcharlotte.com, thesolkitchen.com.