Engagement Season with a Twist
BLT Steak has a special reward in store ...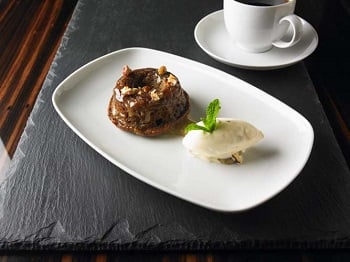 Come the holidays, many couples decide it's finally "time" to pop the question. The constant barrage of jewelry store commercials advertising all things sparkly has kept all of us on our toes in terms of romance for the holidays.
Additionally, the upcoming "lucky" date of 12/13/14 will play host to more than 14,000 weddings; much akin to the popularity of dates like 06/07/08, 12/12/12, and 11/11/11.
Of course, there's a Charlotte connection here. The uptown restaurant BLT Steak Charlotte wants to provide the setting for your first big step down the aisle.
In celebration of the perfect proposal, BLT Steak vows that guests who get engaged at the restaurant on December 13th will receive 50% off their meal on the December 13th anniversary of their engagement from that day forward and forever!
Just think: you could be sitting and enjoying your dinner — a lovely acacia honey marinated Alaskan black cod alongside some cherry tomatoes Provençal — or diving into your dessert featuring a crêpe soufflé with passion fruit sauce or a sticky toffee cake when the magical proposal happens — setting you up for a lifetime of happiness AND delicious free food on your anniversary.
So go ahead and make your 12/13/14 reservation and let BLT Steak Charlotte honor that special day for many blissfully wedded years to come.
For more information on the promotion and to make your reservation, please call (704) 972-4380 or the website. Complimentary valet is always provided, so feel free to pop some bubbly once you've popped the question.