Essay: Enjoying the Double Door Inn's Last, 'Bittersweet' Days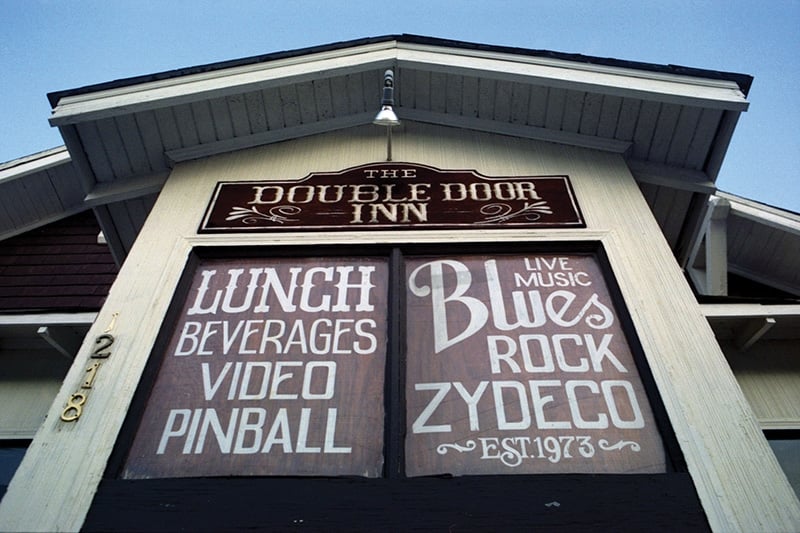 This piece appears in the upcoming "Fall Arts Preview 2016."
THE BARTENDER GAZED at me over his glasses. "You want me to run this now?" he asked, holding my credit card.
"Yep," I said.
"This is the only drink you're going to have, the entire night?"
"Yep."
"Well, thanks for your support," he said with sarcasm.
He returned my card, slapped the receipt and pen on the counter, and moved on.
Not a great start to my July visit to the Double Door Inn. I was working that night, covering the 20th anniversary of Lou Ford, the Charlotte-bred, self-described "rural pop" outfit. Chad and Alan Edwards started writing songs under that moniker in the 1990s, but the group disbanded and the brothers started over as The Loudermilks in 2010. Both versions of the band released records that have been important to the Charlotte music scene.
After the encounter with the bartender, I slunk to the back of the room and waited for showtime, observing an already-intoxicated show-goer roll up a poster from the wall and shove it in his pocket. That incident roused me from bitterness. I wasn't going to let the encounter at the bar ruin the night. This story is about a special place, one that's offered intimate live music experiences for 43 years. A wall adorned with signed, framed portraits tells of wild nights with Buddy Guy on stage, or The Fabulous Thunderbirds, or The Nighthawks. These were evenings clouded in cigarette smoke, including one that brought a surprise sit-in with Eric Clapton.
This is a venue that—to this day— isn't full of glowing smartphone screens capturing stills and video for the instant gloat. The Double Door is a venue from another time. And in January, when it closes for good, that descriptor will take on a more unfortunate meaning.
Lou Ford is the type of band for which the Double Door was created. No show in Charlotte had a more captive audience that evening. Between songs, Alan Edwards shared his own emotions: "This is bittersweet. We've been playing here for 20 years, and tonight may be the last time."
Everything that goes away ends up idealized. When music venues close, we share our fondest memories. But the reality is more bittersweet. We tend to overlook disappointing sets from anticipated shows, crowds that grew too rowdy, or even those nights where we may have been the problem, our insides soaked with PBR.
Embrace everything you adore and resent about your favorite music venue. Share all the stories, even the ones of the cranky bartender. Just be present. And, maybe, on the nights you only need one drink, do what I did as a sign of solidarity: Buy a T-shirt on the way out, emblazoned with the logo of one of Charlotte's greatest venues.
---
This article appears in the September 2016 issue of Charlotte Magazine
Did you like what you read here? Subscribe to Charlotte Magazine »
---