Eva Noblezada: From Charlotte to Broadway
The Northwest School of the Arts graduate comes home to Charlotte before heading to Broadway to play the lead in 'Miss Saigon'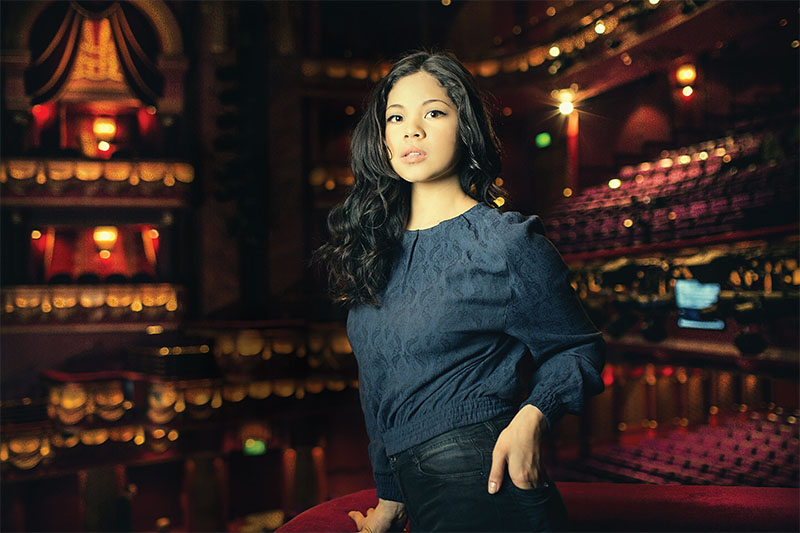 IN 2014, EVA NOBLEZADA was 18 years old when she debuted as the lead in Miss Saigon in London's West End. As she walked onstage before an audience of 1,600, she hadn't even graduated from Northwest School of the Arts. Only months before, she'd won "Best Actress" during the Blumey Awards, a version of the Tonys for Charlotte high-schoolers
A lot can change in a year. In November, the play's producer announced that Noblezada is headed to Broadway in 2017 to star as Kim in the Miss Saigon production there. Before she fulfills that dream, she'll stop by Charlotte this month for some performances with the Charlotte Symphony Orchestra. She'll sing in A Symphonic Valentine (Feb. 12-13)—a romantic concoction of Broadway, classical, and pop tunes—and the Disney-heavy Charlotte Symphony Lollipops: It's a Small World (Feb. 13). Here, Noblezada discusses the West End experience, returning home, and what it means for a multiracial actress to perform on Broadway.
Charlotte magazine: Kim is 17; you were 17 when you were cast in the role in 2013. How have you evolved with her?
Eva Noblezada: With every show, I learn something new about her. She's a very difficult role to play. She'll be distraught, heartbroken, overjoyed, and so many other emotions throughout the story. But personally, even as I lived on my own for the first time, I could relate to Kim. Of course, it wasn't as excruciating a process for me as it was for her. But it's wonderful to have a character to learn and grow with in each performance.
CM: Do any lessons from Northwest School of the Arts stick with you today? Do you maintain a relationship with those teachers?
EN: Northwest taught me so much. The challenge to work hard and to really push myself started there. … It was the first place to give me a chance to shine and really helped me define myself as an actor.
CM: Looking back, is it crazy to think you were able to go straight to the West End?
EN: I always hated the idea of going to college. My idea was always to go to New York and waitress until I was able to make it. And then all of this happened. Being a city girl, this has all been a dream.
CM: How hard will it be to leave London?
EN: It's not going to be hard. I'm definitely going to miss it here. But Broadway has been my dream since I was tiny. And I'll always look at the West End as a place I want to come back to again and perform.
CM: Before New York, you're coming home. How will it feel to perform here again?
EN: It's going to be really special to sing in the place where I grew up. These are going to be festive shows and hopefully very interactive. It's actually easier to perform in front of thousands of people [who don't know you] than people who know you. But I know in Charlotte, I'll be taken in and supported with these performances.
CM: What about Broadway in 2017 excites you?
EN: Broadway has really opened the doors for new and exciting plays—and also in terms of ethnicity. Being a half-Mexican, half-Filipino actor, this is a special time to be headed to Broadway. Ten years ago, it would have been harder to find these types of roles. I'm honored to find a role in someone like Kim in Miss Saigon.
---
This article appears in the February 2016 issue of Charlotte Magazine
Did you like what you read here? Subscribe to Charlotte Magazine »
---