Building Today's Agilepreneur: Is Your Business 21st Century Ready?
When:
January 15, 2020 @ 5:30 pm – 8:00 pm
2020-01-15T17:30:00-05:00
2020-01-15T20:00:00-05:00
Where:
Launch Factory
2549 Wilkinson Blvd
Suite 310 Charlotte
NC 28208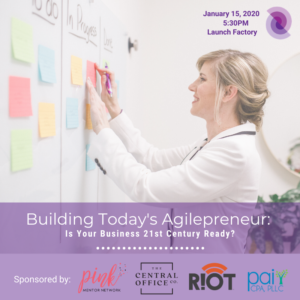 Is Your Business 21st Century Ready?
You started a business!!! But then reality hit: My life is now out of control! So, do you have what it takes to survive this fast-paced, ever-changing world of entrepreneurship?
Who you are and how you run your business will determine whether you can keep up and make it past year 5. If you are overwhelmed with all the hats, managing all the things, then it's time to become Agile!
In my 2-hr hands-on workshop "Is Your Business 21st Century Ready?" you will learn:
What is the "old" way of running a business (and is that you?!?)?
What is the Agile way of doing things?
How others are achieving business success with it.
How it will transform you, your business, and your team.
You will gain some actionable steps towards becoming an Agilepreneur! But HOW you operate is only one part.
Emotional Intelligence, or your interactions with customers, clients and employees, is now considered the most necessary skill set to have. As we know, going door-to-door and strong-arming potential customers with high-pressure sales pitches no longer works. Soft skills are what you need to develop!
So, what are the 5 components of Emotional Intelligence? And how can you understand yourself better to change the way you react to others and get better outcomes from those around you?
We will round out our workshop with an EI activity, giving you a new perspective on why people do the things they do, feeling more confident in your interactions with them, and doing business with a completely new mindset.
You NOW will be ready to be a 21st Century Entrepreneur!
5:30 – 6:00 Networking, Wine/Beer, Light Appetizers from Babe and the Butcher
6:00 – 8:00 Workshop and Q&A
Sponsored by: Pink Mentor Network, The Central Office Co, RIot, and Pai CPA
ABOUT THE PRESENTER
Patty Aluskewicz, founder of Agile Mindset Consulting, is a Fractional Scrum Master and Agile Business Development Consultant to local small businesses and start-ups. With over 13 years of experience, she assists those ready to scale by reconfiguring and building solid structures and systems, including the implementation of Agile into daily operations.