Dilworth Tasting Room Queen's Feast: Charlotte Restaurant Week
When:
January 17, 2020 @ 4:00 pm – January 26, 2020 @ 12:00 am
2020-01-17T16:00:00-05:00
2020-01-26T00:00:00-05:00
Where:
Dilworth Tasting Room
300 E. Tremont Ave. Charlotte
NC 28203
Contact:
Dilworth Tasting Room
(704) 595-3337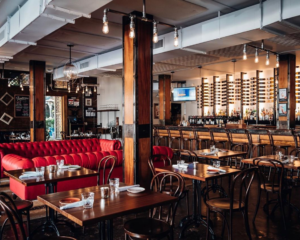 Looking to experience some of the best food in the Charlotte area? Enjoy Dilworth Tasting Room's three-course prix fixe dinner menu in this year's Queen's Feast: Charlotte Restaurant Week. Offered from Friday, January 17 to Sunday, January 26 and priced at only $35 per person, the menu offers a variety of tasty dishes from appetizers to dessert.
FIRST COURSE
Charcuterie : prosciutto and brie served with accoutrements OR Butternut squash bisque with spiced olive oil, goat cheese and pumpkin seeds
SECOND COURSE
Gnocchi in mushroom-garlic cream sauce topped with shaved Parmesan
Lamb meatballs in marinara topped with feta and basil served with Naan
Seared chicken breast with roasted cauliflower over romesco topped with pickled shallots and herbs
THIRD COURSE
Croatian Bajadera (almond nougat and chocolate layered bar) with whipped cream, orange curd and berries
Warm cinnamon bread pudding with boozy caramel sauce and house vanilla ice cream
Reservations can be made through Resy. Call 704.595.3337 for more details. We hope to see you there!