Intergalactic Soul
When:
February 19, 2020 @ 7:30 pm – February 29, 2020 @ 8:00 pm
2020-02-19T19:30:00-05:00
2020-02-29T20:00:00-05:00
Where:
Duke Energy Theater at Spirit Square
345 North College St. Charlotte
NC 28202
Contact:
OnQ Performing Arts
704-629-8485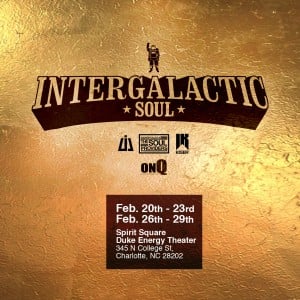 "Two graphic designers/artists, Marcus Kiser and Jason Woodberry, along with one poet, theatre visionary and modern-day Renaissance man, Quentin Talley, have come together to show love and appreciation with a fist in the air."
Intergalactic Soul is an art exhibition that brings science fiction and social awareness together as one. The artwork explores a cosmic sci-fi theme that is driven by social, political and cultural undertones. With multiple exhibitions across the country already under their belt, 2020 brings a new exploration of the project, taking it off the wall and onto the stage, in a live performance by Quentin Talley & The Soul Providers.
Think Q's signature spoken word style layered over a live band seaming together jazz, funk, and soul effortlessly. Quentin Talley & The Soul Providers (Courtney Gibson, bass | Curtis Hayes, keys | Stefan Kallander, guitar | Tim Scott Jr., drums) influenced by Kiser & Woodberry's dynamic artwork, create a unforgettable evening of performance art.
Wednesday, 2/19 | 7:30pm – Pay What You Can Night.
Feb 20 – Thursday at 7:30pm | Feb 21 – Friday at 8:00pm | Feb 22 – Saturday at 8:00pm | Feb 23 – Sunday at 3:00pm | Feb 26 – Wednesday at 7:30pm | Feb 27 – Thursday at 7:30pm | Feb 28 – Friday at 8:00pm | Feb 29 – Saturday at 8:00pm