Everything You Need to Know About Order/Fire
We chatted with Marc Jacksina and Peter Taylor about the new web series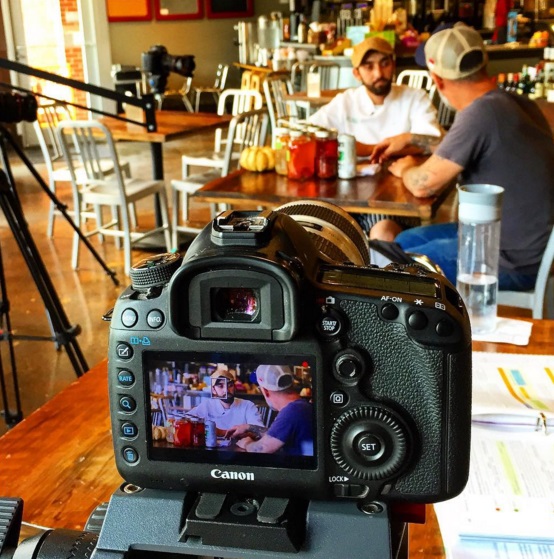 There's a new culinary web series to add to your Bookmarks when you need a break. Charlotte photographer (and Charlotte magazine photographer) Peter Taylor and Charlotte chef Marc Jacksina have launched a web series focusing on all things food in the Queen City.
Order/Fire is a culinary video web series, hosted by Jacksina and produced and filmed by award winning photographer and director Peter Taylor with production assistance from Darius Monte Evans. The conversation-based video web series is lighthearted and fun – each episode aims to get a behind-the-scenes look at Charlotte's (and the surrounding area's) best cooks, bartenders, mixologists, restaurateurs, farmers and everyone in between. Episodes are released roughly every three weeks, although with the Thanksgiving holiday, the second episode likely won't be out until close to December. We picked Jacksina's and Taylor's brains about the new series.
Q: How did the idea for Order/Fire come about?
A: Jacksina: After leaving the fine dining scene, I was looking to find an outlet for my creativity, and had some free time of which I was unaccustomed. The kernel idea was born over fried chicken at a halal joint in Derita. I thought that I had come up with an idea for an article that would document a conversation with one or two chefs at a time, eating and discussing a certain dish, etc. I told Peter about it and he pitched a video companion to go with it. In typical Marc fashion I said, "Sounds great, but got busy with Earl's. About eight months later, Peter contacted me about that video project, and from there, the concept developed into what it is now. I think Peter's vision of my original idea is top f***ing notch!
A: Taylor: It came about when we were having a conversation about fried chicken. We were sitting around and saying like, s**t, we don't want to hear how to make the chicken but more in depth – like you buying chicken, the relationship with the farmer, more than just 'how to' stuff – Marc and I talked about working together and eventually things clicked and the timing was finally right. … The whole thing is supposed to be more how chefs talk to each other versus the usual stiffer interview questions or something the chef would answer from a reporter.
Q: What's the goal for Order/Fire?
A: Jacksina: The goal, for me at least, is to capture the conversations that happen between chefs/food and beverage artisans/farmers when we're away from our jobs. Obviously, we know it's being recorded, but I'm really trying to make the questions lively and interesting enough to where we forget about the cameras and the mics, and just jaw. Luckily, Peter and Darius are there to record it and to interject when necessary.
A: Taylor: The goal is for Marc and I to work together and to feature and talk to not just the people we know but … just have a conversation and have that conversation with that tone of less talk and more depth. It's more casual – we keep it loose, more fun, and more real. Again, that's not to disparage anyone else – but we felt like there was an opening for this kind of thing.
Q: How did you both get involved?
A: Taylor: We've been talking about doing some work together – and Marc is a Renaissance man; he's a writer and obviously has lots of skills in other areas – we thought about what we could do writing together and whether it was a blog with some pictures or a website – we didn't really know. We talked about a few different things and between us we have good reputations and access. Then we kind of let it go. We sat down and … we had that conversation and then I thought, "This would make a really cool video piece." I look at these kinds of things as a creative would; how can we make it interesting, how can I make the sound work and the visuals work? So, it was finally the right time for both of us and we've been doing it since June or July. This is sort of where we wanted to be; we do a bunch at a time then have it backed up so that when we do get busy, it's already good to go.
A: Jacksina: Also because I really trusted Peter as a photographer because of past dealings and our mutual admiration for a former hog farmer of mine, Adam Musick.
Q: What are some upcoming episodes/who will be featured?
A: Jacksina: Blake Hartwick, Alyssa Gorelick, Paul Verica, and Gregory Auten have all sat down with us. We've talked about everything from James Beard dinners/nominations to pickled eggs, peanut butter/Sriracha on hot dogs, and always where we think the QC might be headed in regards to the food scene. Hopefully, once the weather gets cold, I can grab Jamie Swofford from FEBA farms and talk about his influence on these things.
A: Taylor: Our list in Charlotte is tremendous and inexhaustible; we could never run out of people to talk to. Plus, everyone we've talked to loves the idea and wants to be a part of it. I've already gotten interest from people who want to be on.
Q: Can you explain the "from the hip" approach of shooting this?
A: Jacksina: For me, 'from the hip', alludes to a gunslinger taking a shot at his opponent at ten paces. It's not direct aim, but more of a general direction shot. In regards to interviewing, it forces me to really be on my toes and engaged, to ask questions that are more native to the conversation at hand. I'm sure, for Peter, it's an even smaller moving target … Luckily, he's got great aim.
A: Taylor: He's exactly right – we want this to be very casual and natural – not ike the typical interview. We want the whole conversation to steer itself organically; if we started talking to a brewer about hops and the conversation shifted to farmers growing barley, that's kind of the feel we want. It's not a very strict structure. From what I've seen, there are a few standard questions and a direction, but it can really be anything. (Marc and I) are very on the same page with this.
For the future, Taylor says that the amount of reaction to the series has blown him away. "When we had the premiere party, we had 150 people there. They came to see our little show." The team will release episodes of the series for as long as they can – maybe expanding to statewide or even regionally-focused culinary efforts down the road. But, for now, Taylor says, "We're open to different things and we're gonna keep doing what we're doing. We'll wait and see."
Tune in to the Order/Fire Facebook page, Instagram, and website for previews of episode two, featuring Chef Blake Hartwick of Bonterra, due out in the coming weeks.