Evoke Changes the Conversation
Steaks, salt, and sophistication redefine hotel restaurant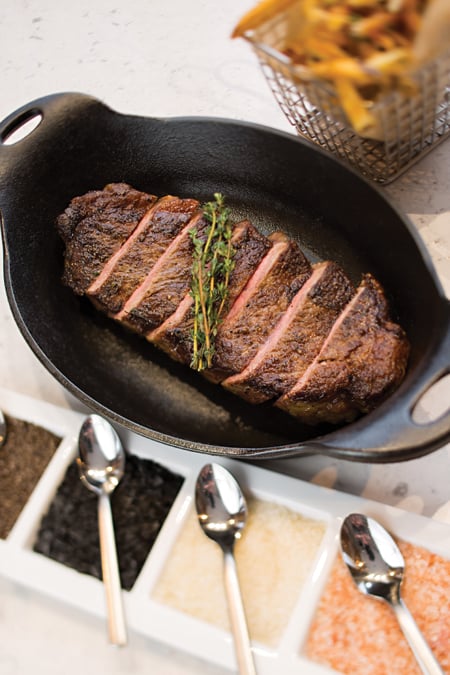 DON DRAPER WOULD eat here, I think, surveying the interior of Evoke, the 90-seat steak house on the ground floor of Le Meridien hotel in uptown. Jazz—first Coltrane, and later Ellington—floats through the dining room, past the sleek bar, where a couple lingers for a pre-dinner drink.
There's a subtle, mid-century modern touch to the restaurant. Chairs and light fixtures evoke the Mad Men era, black-and-white abstract art with hints of yellow fills one wall, leather benches line the perimeter of the room. Yes, this is the type of place Draper, the smooth ad executive on the AMC television show, would visit to impress a client or a mistress. (The shelf of cigarette smoke, thankfully, is nowhere to be found.)
Evoke opened in December, following a yearlong, multi-million-dollar renovation to the South McDowell Street hotel, formerly the troubled Blake. Its menu highlights steaks, house-made pastas, and crudos—an Italian dish using raw fish, something of a cross between ceviche and sashimi.
We settle into a cozy table and order cocktails. The bourbon fizz ($10) lives up to its name, but stands out for being straightforward. Hints of citrus and honey complement the whiskey without overwhelming it, and the sparkling wine is appropriately crisp, adding the fizz without unwanted sweetness.
The Sweet Gem Lettuce salad ($12) is appropriately sized for an appetizer course, with pieces of a mild blue cheese, a hard-boiled quail's egg, and crispy hunks of bacon scattered throughout. The salad transitions well to a hearty tagliatellini with sausage, Swiss chard, walnut pesto, and sweet goat cheese ($16).
My steak, a New York strip ($30 for eight oz., $52 for 16 oz.) that has been dry-aged for three weeks, arrives in a cast iron gratin dish. It's expertly seared on the outside and a tender medium-rare in the center. Evoke serves its steaks with a rectangular plate of tasting salts, meant to be sprinkled on the meat. There are four: smoked salt, black lava sea salt, chile verde salt, and Himalayan pink salt. It's hard to resist experimenting with the different flavors and textures. The fine grains of the smoked salt are reminiscent of cooking over a campfire and enhance the taste of the steak's sear. The salts are equally delicious scattered on a heaping side of truffle potato puree ($7) that is more than enough for two people.
In one of Mad Men's early seasons, Draper lectures a difficult client, "If you don't like what's being said, change the conversation." The line lingers in the back of my head throughout the meal, which is excellent from beginning to end. Evoke has masterfully changed the conversation about its forgettable predecessors.
Evoke
555 S. McDowell St.
Entrées $22-$52
980-237-5354
B, L, D, FSB